---
Irish Rambling House Show back in Siamsa Tire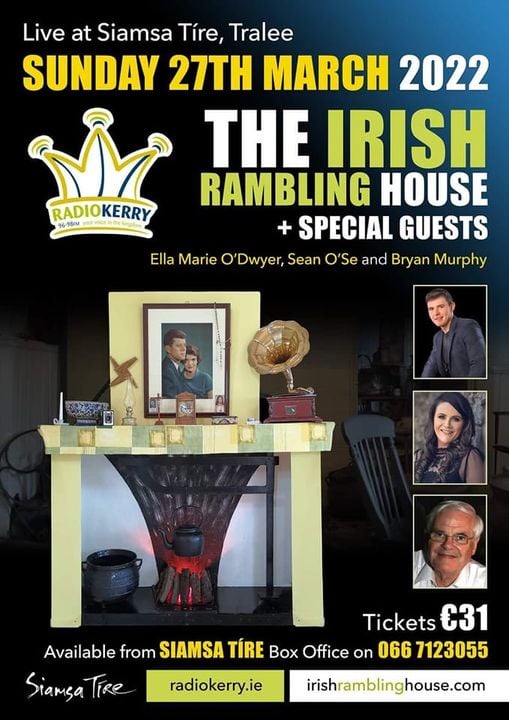 It has been described as one of the best Irish Rambling House Shows yet and it was certainly up there with the best. Our thanks to all twenty two entertainers who took to the stage at Siamsa Tire in Tralee on Sunday night
Our musicians were…
On Banjo - Owen Turner Cork
On Mouth Organ/Bodhrán - Limerick's Pat Curtin.
We had four members of the Breen family from Kilflynn…
Conor on Accordion - Thomas on the Box drum. - Darragh on Guitar and Sarah on Fiddle.
From the general Lyreacrompane area we had…
Katie Galvin on Fiddle and Sarah Murphy on Concert flute
and from Tipperary faraway - Caroline Glennon on tin whistle
From the Nolan School of Dancing we have Orielle O'Donnell from Limerick, Michael and Sadie Duffy from our own parish of Duagh/Lyre
Kate and her Sean Nos Dancers from Lixnaw
Margaret Madigan from Limerick organizing the half-set and barn dance
Our storytellers were Noel Joyce from Tipperary and Mike Shinnors from Limerick and they sent everyone home in stitches.
We had the man who can't stop singing - Cork's own Willie Relihan
And talking about Cork, two of our special guests were from that lovely county - Sean O Se, eighty six years young and Elle Marie O'Dwyer. Our other special guest come from the even more lovely Kingdom of Kerry - Bryan Murphy.
Our thanks to the management and staff of Siamsa Theatre for looking after us and being so welcoming and friendly and a big thank you as well to Billy Donegan and Radio Kerry for asking us to be part of their Concert series – and to Billy who did such a great job on sound all night.
And to the people who gave us a reason to be there – the audience. The crowd enjoyed two hours and forty-five minutes of might Irish traditional music, song, dance and the humour of the storyteller who, once again, confirmed our slogan that 'If laughter is the best medicine then an Irish Rambling House Show is the prescription'.
Kay and Joe.
This short clip is from Radio Kerry's Facebook page…
https://www.facebook.com/radiokerry/videos/5242183482487890
Musicians at rehearsal... https://www.facebook.com/kay.oleary.1654/videos/478130850471262
---
A chance to hear and see an Irish Rambling House Show
during the Pandemic!!!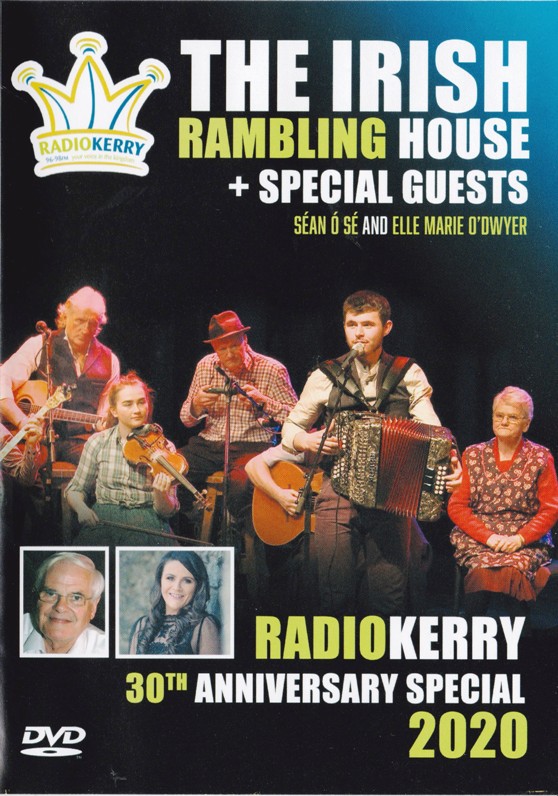 The Irish Rambling House Celebrating Radio Kerry's 30th Anniversary
Recorded at Siamsa Tíre Tralee in 2018 and released in 2020 to celebrate thirty years of
broadcasting. Due to Covid 19 Radio Kerry along with the Irish Rambling House
were unable to stage a live show in 2020. See Order Form or call 00 353 (0) 87 285 3570
---
Keep safe everyone.
Hi to all fans of the Irish Rambling House Show here in Ireland and especially our exiles. Hope you are all OK
and keeping safe in the face of this pandemic. Not sure how long it will be 'till Kay O'Leary will, again, be calling on
you to "Pull up your sugán chairs my friends".
Our Show planned for Killorglin in co-operation with Radio Kerry at the end of April can obviously now
not go ahead. We will miss meeting up with you all for a while. In the meantime you can dust down
that old Irish Rambling House DVD and watch it again - just for old time sake.

Also, Joe Harrington continues to broadcast his internet radio programme, Joe's Country Kingdom
on Tuesdays and Saturdays 9 to 11pm Irish time. Tune in to hear Country and Irish music - and a bit of
chat. It's on Irish Country Music Radio and it's a way to keep in touch. Keep safe.

2019 Tour Photos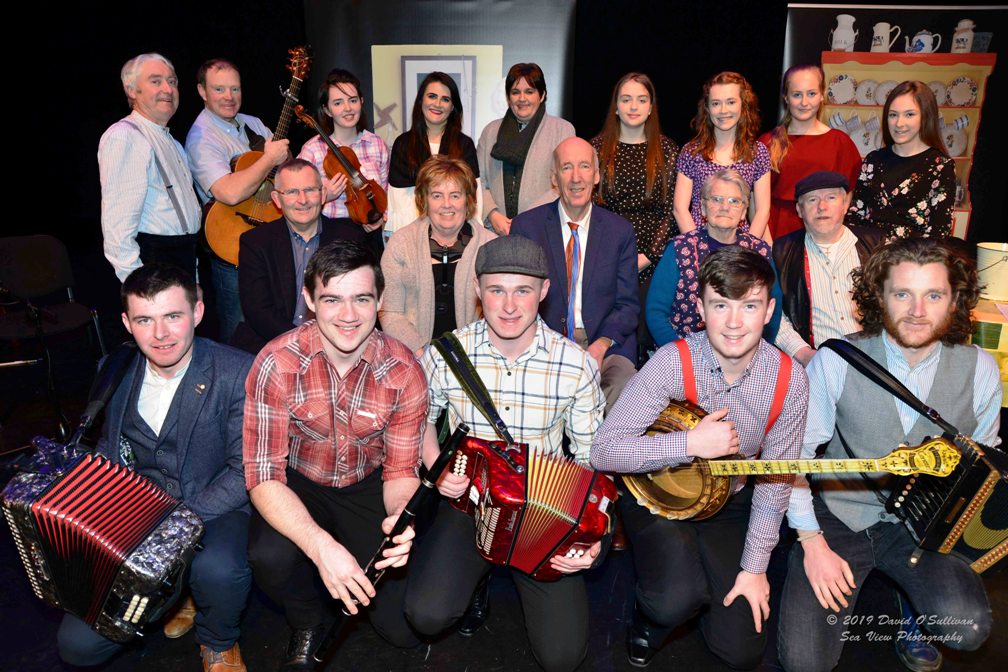 The Irish Rambling House group organised by Lyreacrompane natives Joe Harrington and Kay O'Leary
performed at Siamsa Tíre on December 4, 2019. The sold out show was the groups' final one
for 2019 having just returned from their twenty second tour of England.

Back Row:
Paddy Commane Co. Clare, Kevin Willis Mallow, Katie Galvin Lyreacrompane,
Elle Marie O'Dwyer Freemount, Geraldine and Aoife Murphy Lyreacrompane, Seán O'Sé Cork,
Triona Ní Shúilleabháin Ballyferriter, Caoimhe Lyons Lyreacrompane and Caoimhe Laide Listowel.

Middle Row:
Billy Donegan Causeway, Kay O'Leary and Joe Harrington Lyreacrompane,
Chrissie Roche Newcastle West Co. Limerick and Tony O'Brien Firies.

Front Row:
Bryan Murphy Causeway, Máirtín O'Cathasaigh Dingle, Neilus Mackessey Listowel, TJ Willis Mallow,
Darren Roche Newcastle West. Missing from the picture Helen Schisas and Michael O'Sullivan.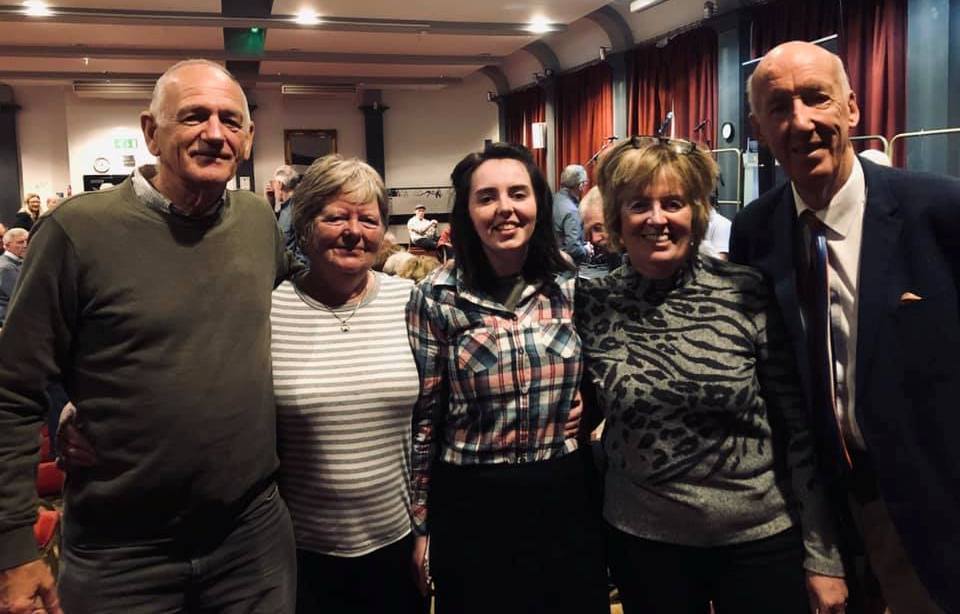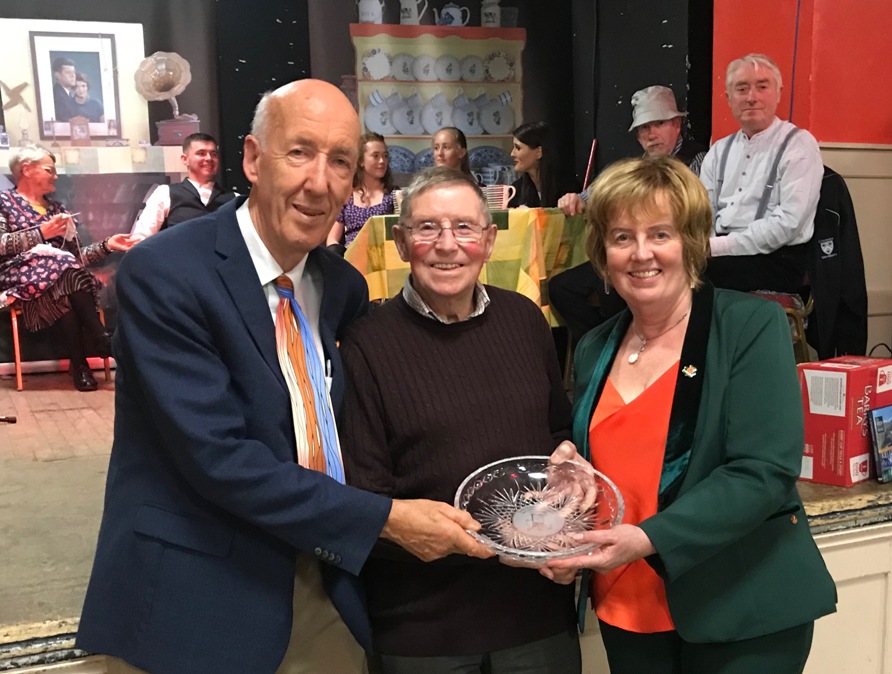 Irish Rambling House Show organisers Joe Harrington and Kay O'Leary make a presentation
to John Fitzgerald, Minstrel Music, in recognition for all his help in promoting the Show in Birmingham
over the years. John is retiring at the end of the year and the Irish Rambling House Show was the
last at the Birmingham Irish Centre which is due to be demolished early in the new year.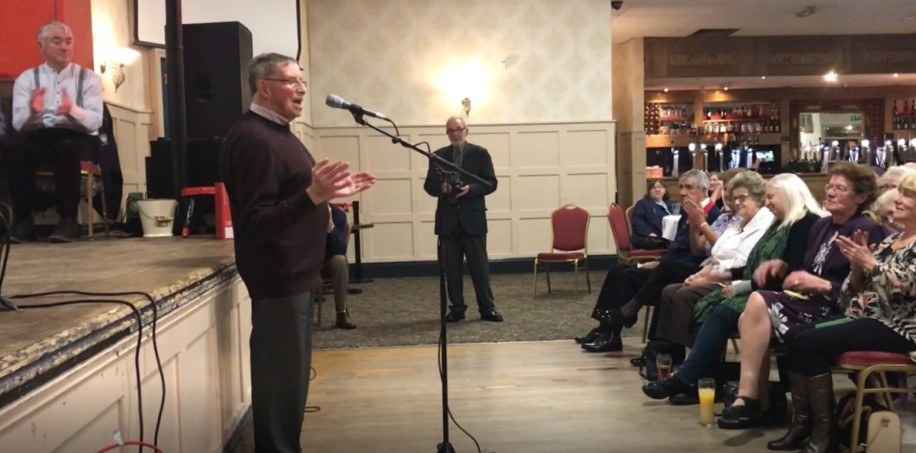 John Fitzgerald addressing the Irish Rambling House Show audience.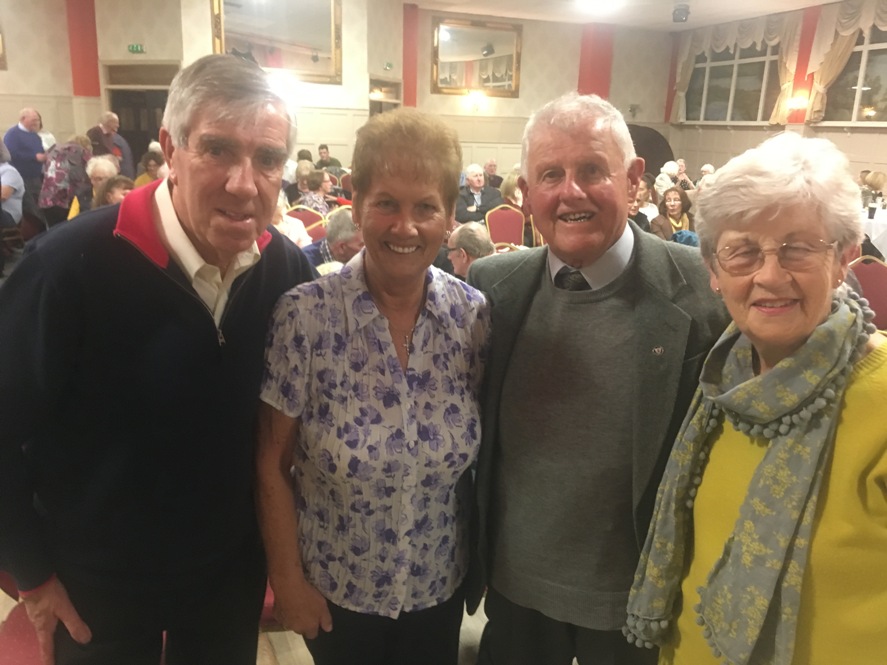 Meeting up with old friends in Birmingham.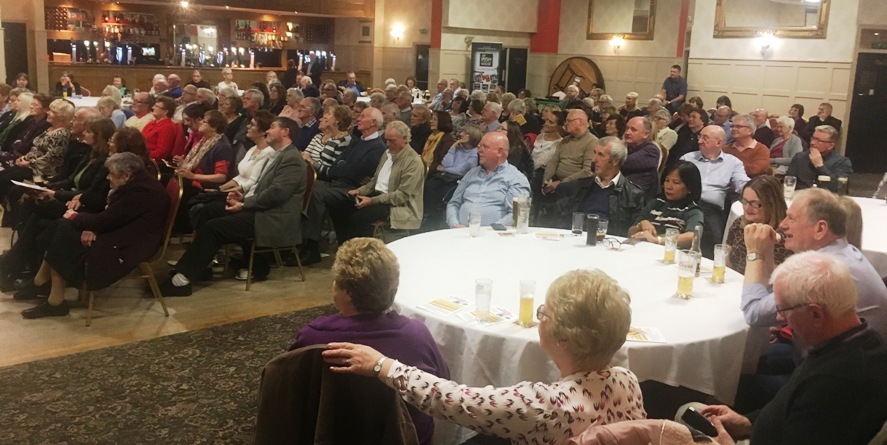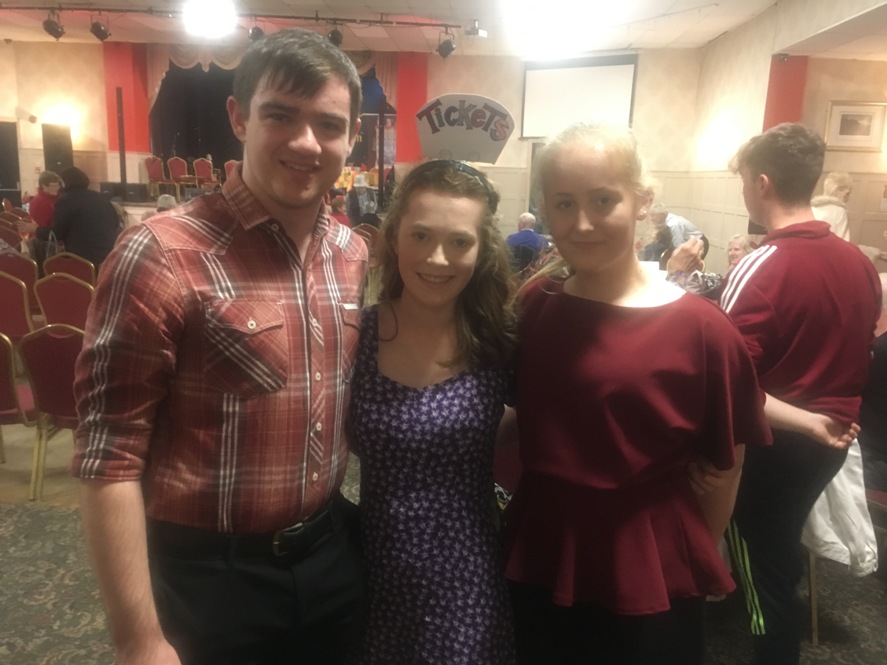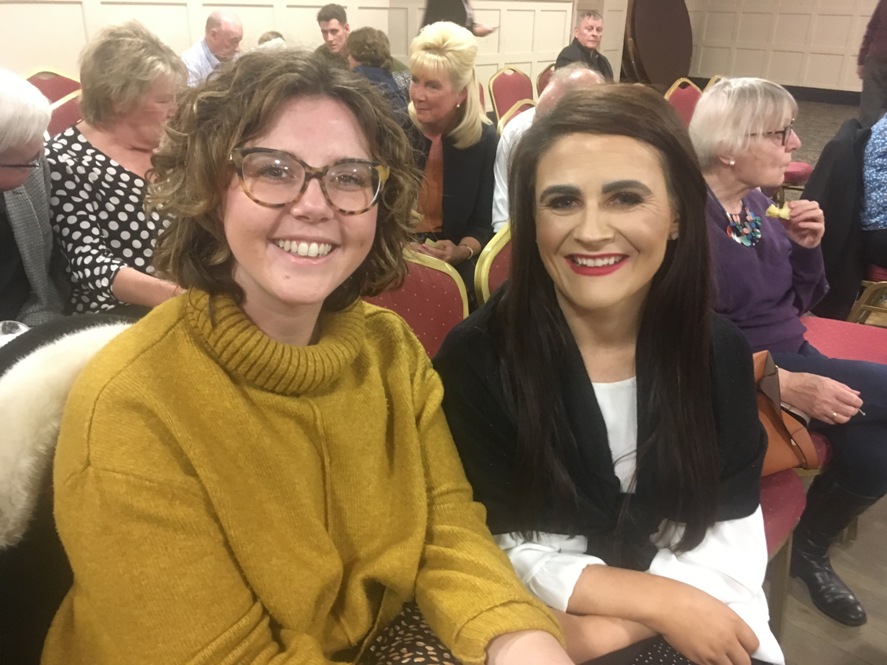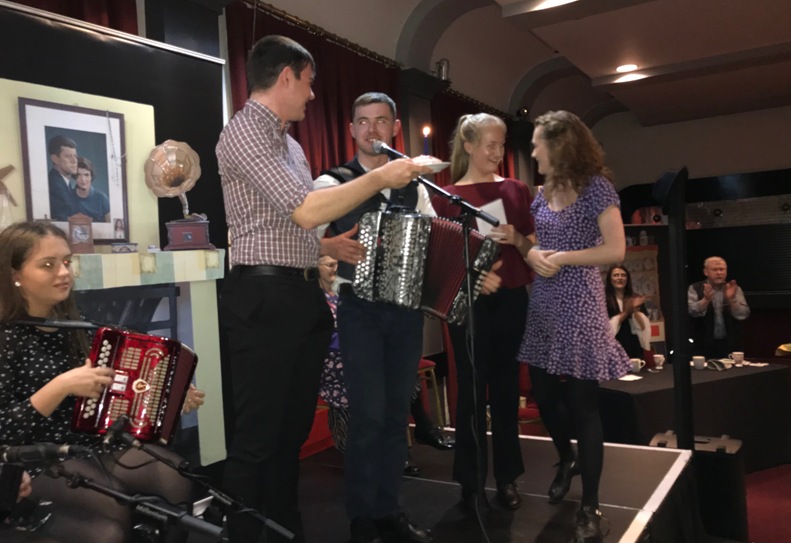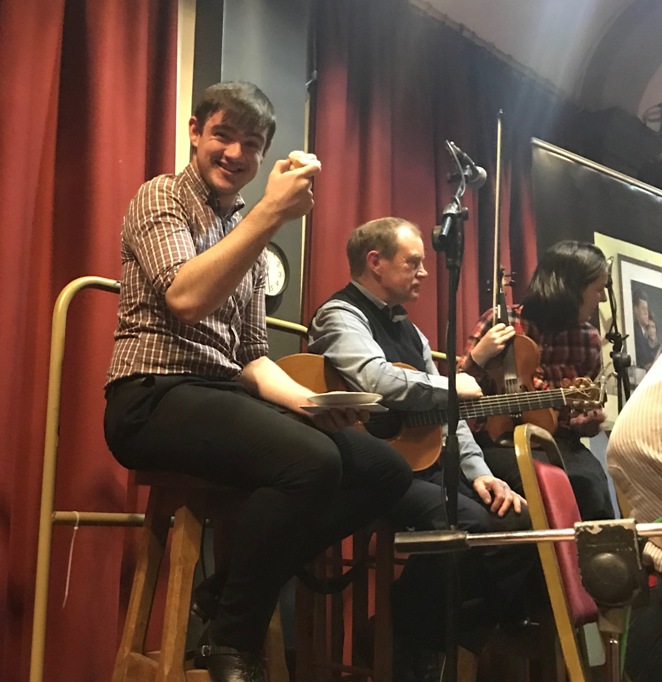 It was Máirtín O'Cathasaigh's birthday in Camden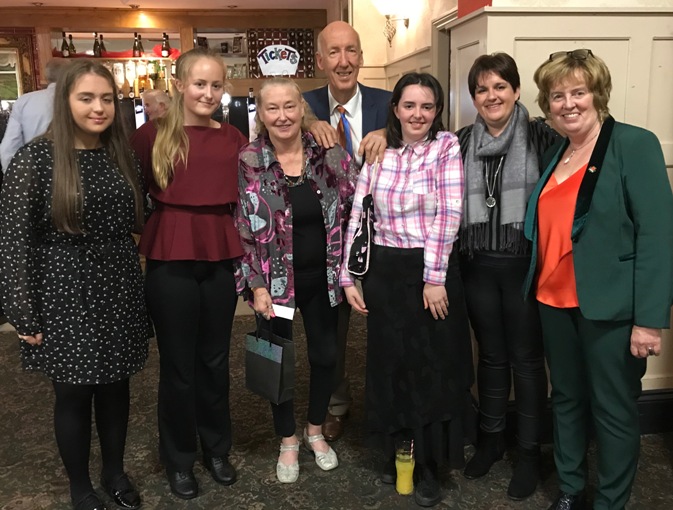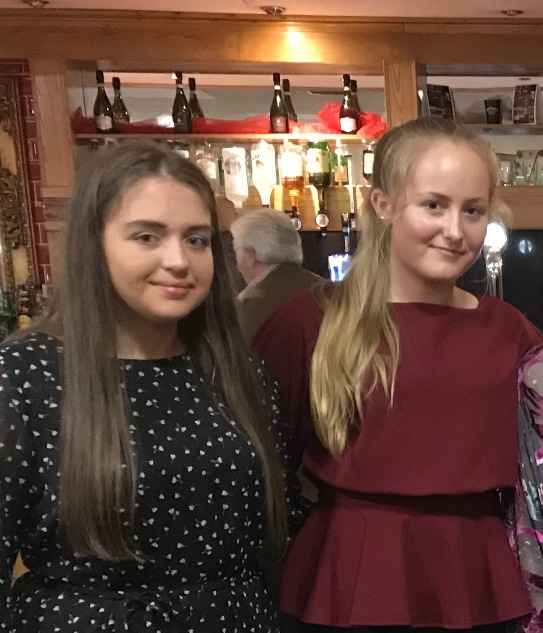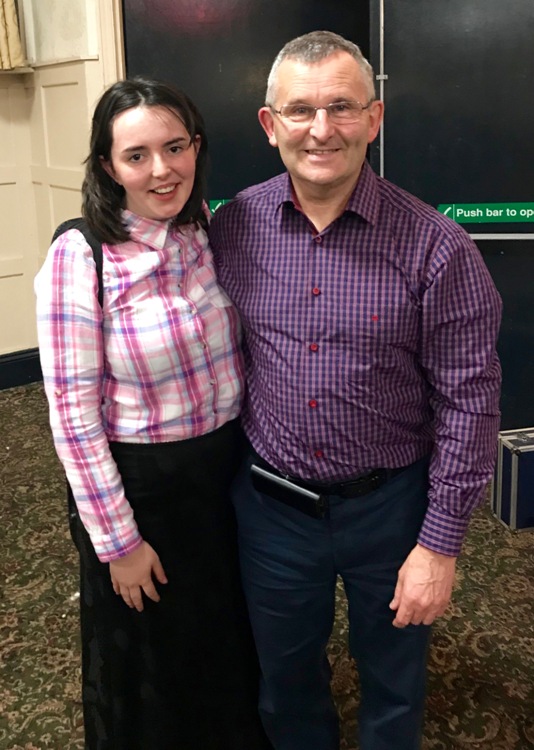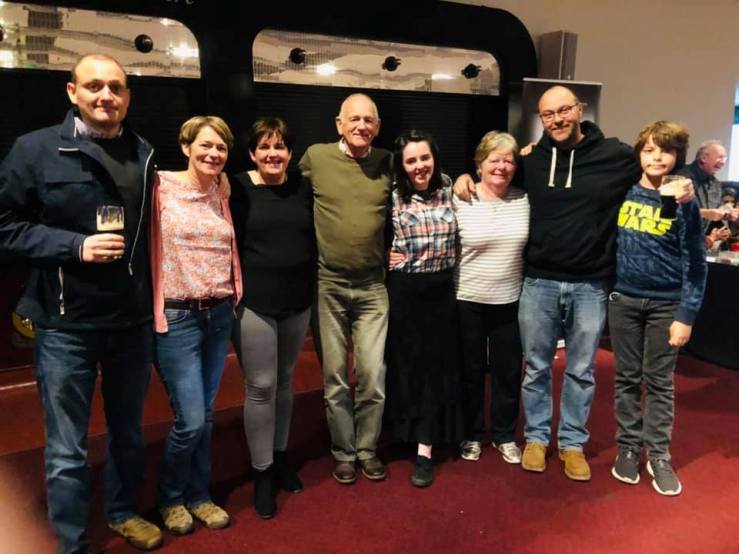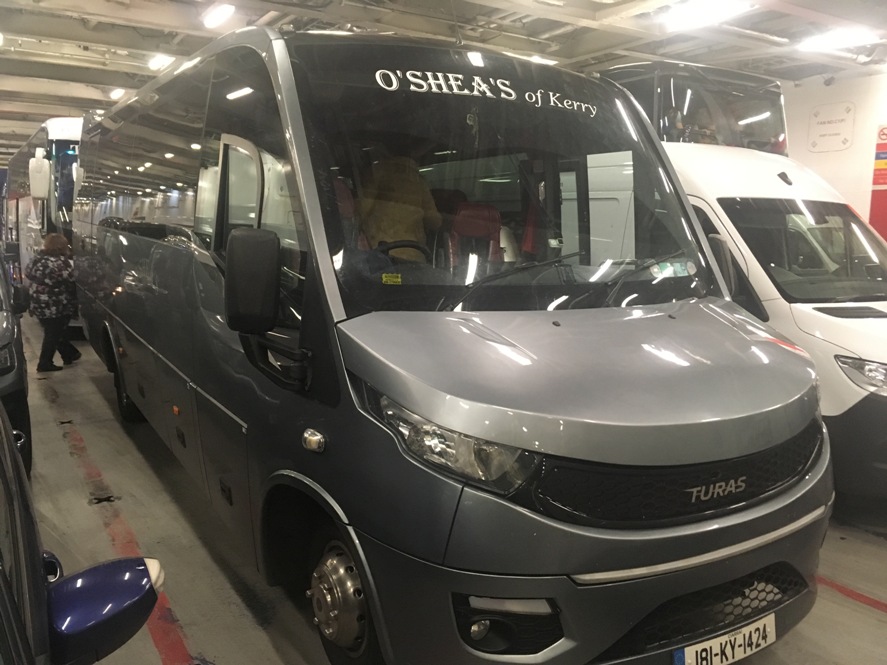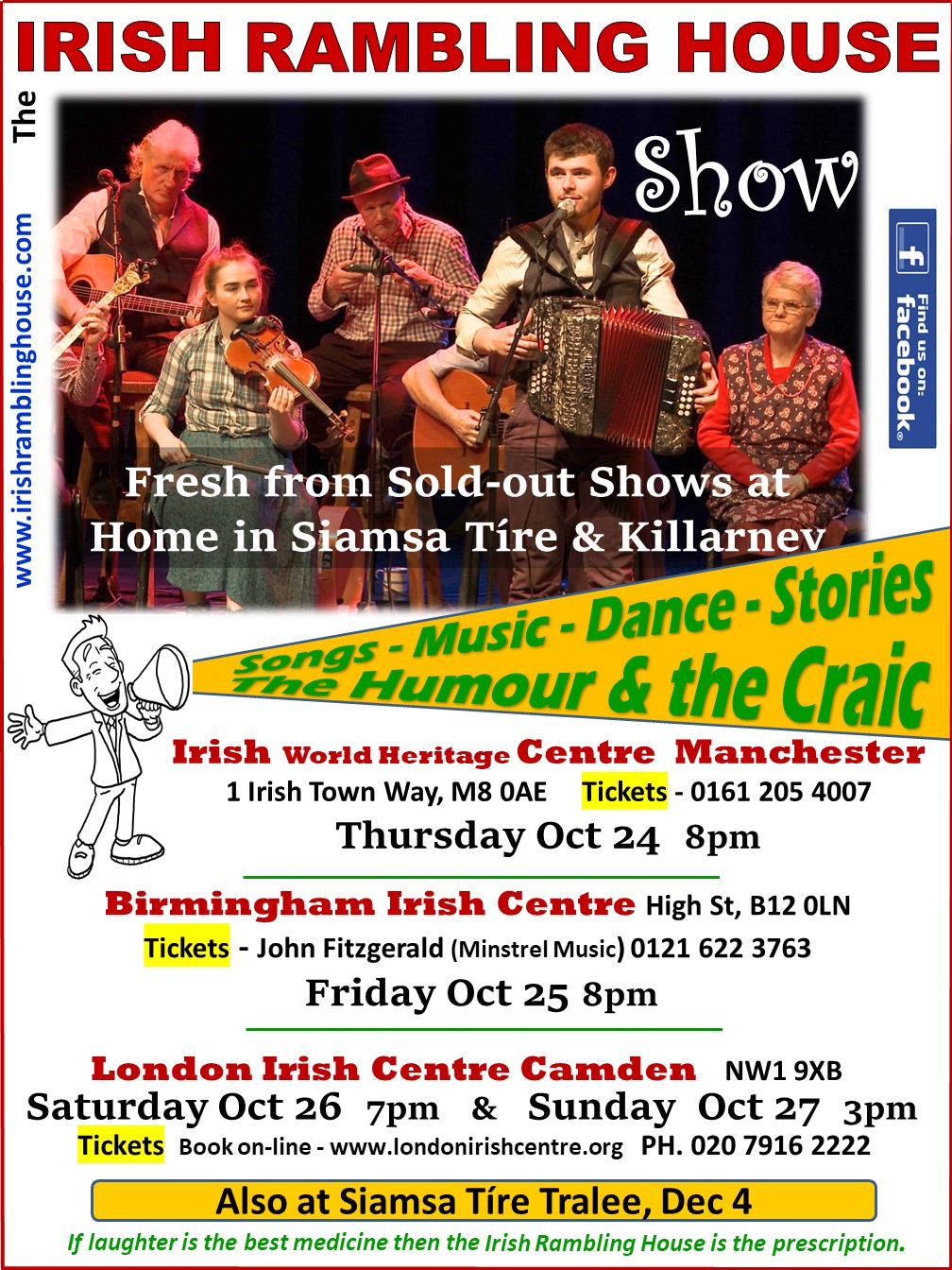 ---
Another Mighty Irish Rambling House Show
This time at the Killarney Racecourse Auditorium - Thanks to everyone involved...

Great crowd... Great entertainment... Great atmosphere...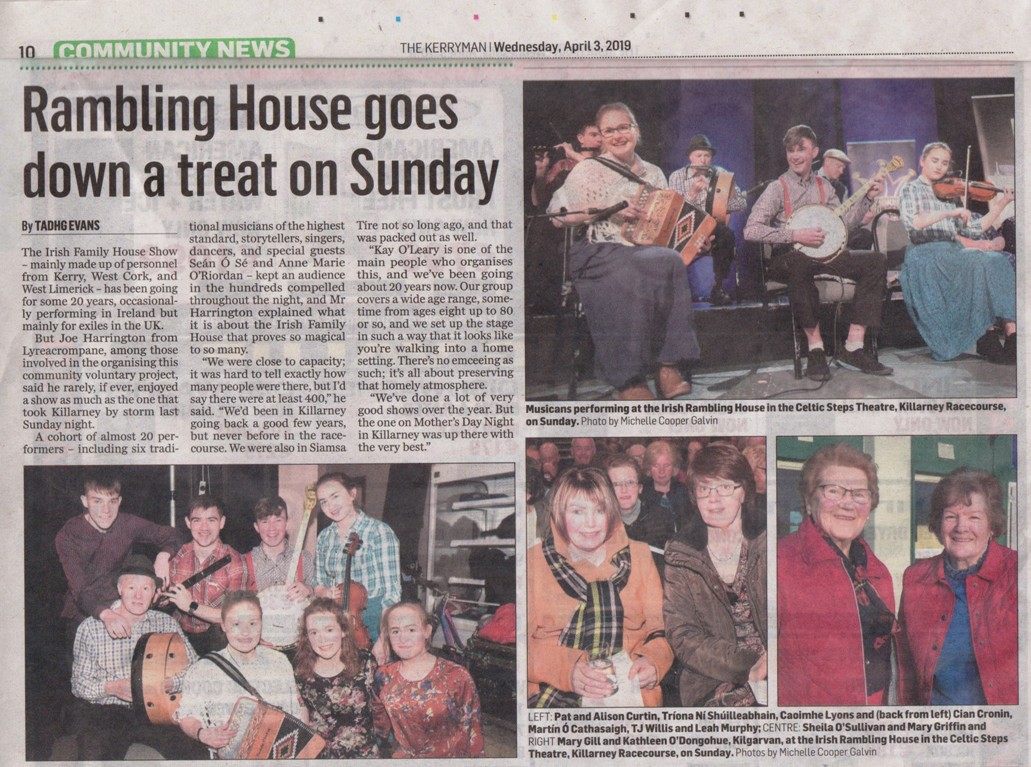 In the article the reporter mistakenly refers to the Irish Rambling House as the "Irish Family House"
---

Tour 2018 - Our thanks to everyone who came


along to our Shows in England.
Looking forward already to going back to entertain
the exiles next year.
See photos from 2018 Tour below
---
Our Show in Siamsa Tíre, Tralee,
hosted by Radio Kerry on December 12, 2018
was a sell-out!!!
Well done to everyone concerned.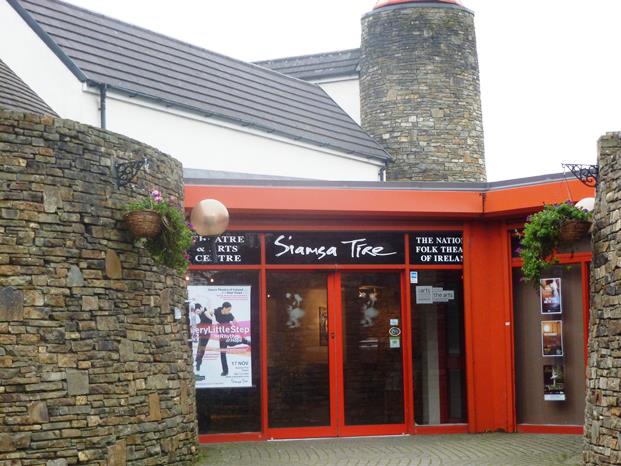 ---
The Songs of Joe Harrington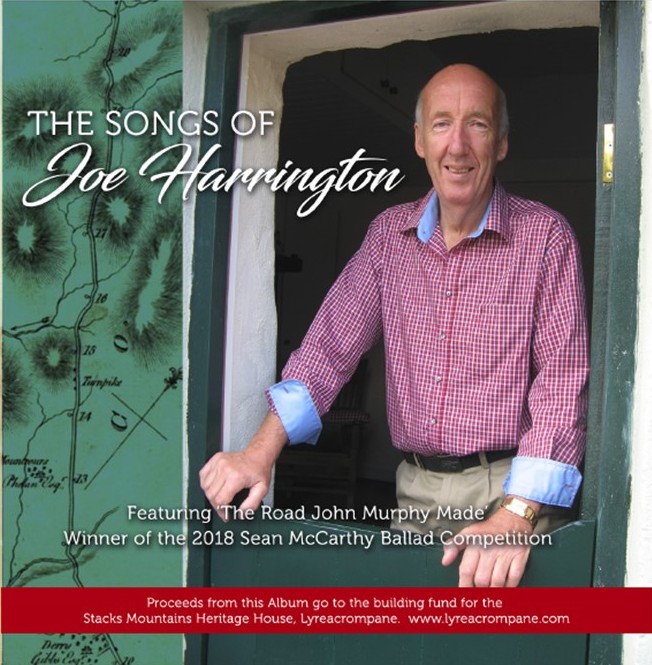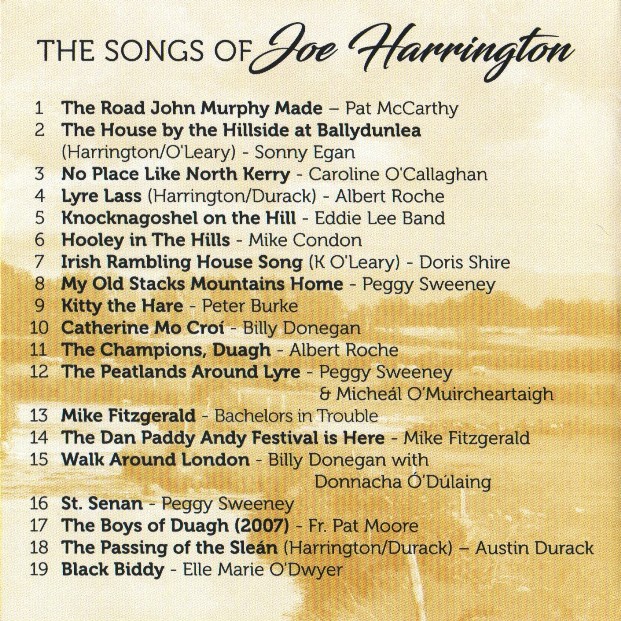 These songs were written over a twenty year period by Joe Harrington, a native of Lyreacrompane. They are sung by
various singers. Joe has been a community activist in both Kerry and Limerick. He served as a Councillor for many
years and as Mayor of Limerick City. He is Chairperson of the Dan Paddy Andy Festival since it began in 1998 and,
along with Kay O'Leary, takes the Irish Rambling House Show to England each year, to entertain the exiles.
Broadcasting is Joe's other passion. While working in Limerick he presented music programmes on Limerick radio
stations and he now has a programme two nights a week on internet radio called
'Joe's Country Kingdom' on www.irishcountrymusicradio.com

Eight of the singers on the album have been to England with the Irish Rambling House Shows.
Proceeds from this album go to the building fund for the Stacks Mountains Heritage House, Lyreacrompane. This is a
project aimed as renovating an old schoolhouse as a Heritage House which will highlight the Heritage and Culture of the
area and as a space which will play an important part in lessening social isolation in this very rural part of Ireland.
For more info on the project go to www.lyreacrompane.com and click on Heritage.
The album costs 13 Euro or 13 Sterling which includes post and packaging and can be ordered from Joe Harrington, Lyreacrompane, Listowel, Co Kerry and cheques should be made out to Lyreacrompane Heritage Group.
Joe's mobile number is 00 353 (0) 87 285 3570. E-mail irishramblinghouse@gmail.com
---
Click on the half-door above to hear Doris Shire sing the
Irish Rambling House Song which was written by Kay O'Leary.

For an account of how the Irish Rambling House began Click Here
---
Irish Rambling House Tour 2018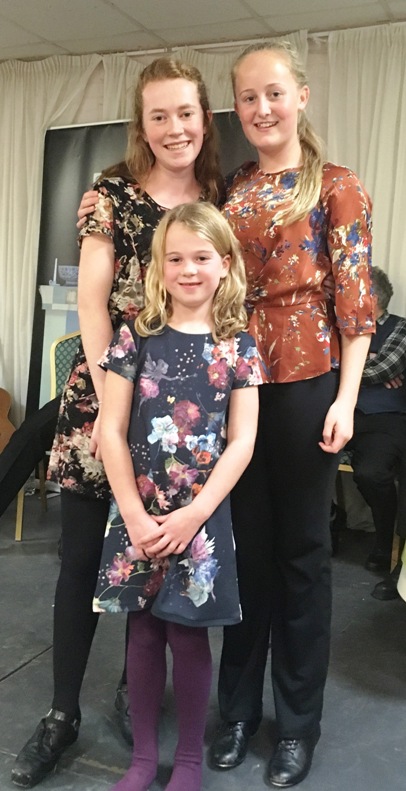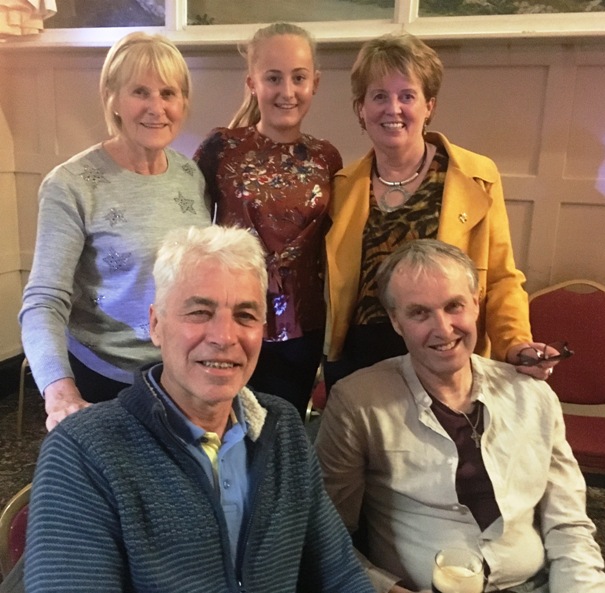 Cousins and friends meet up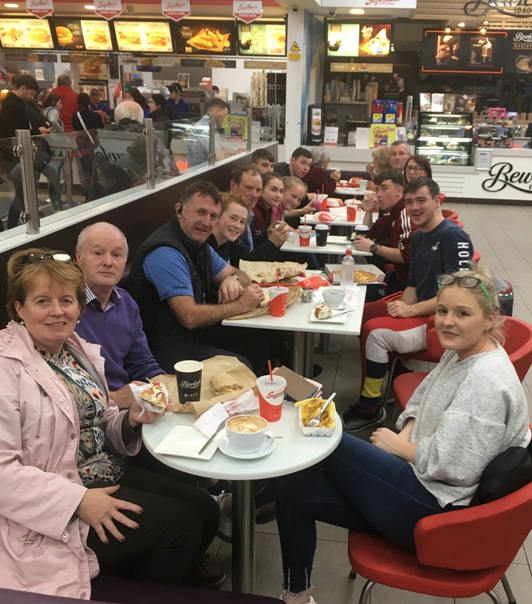 Taking a break at Obama's on the way home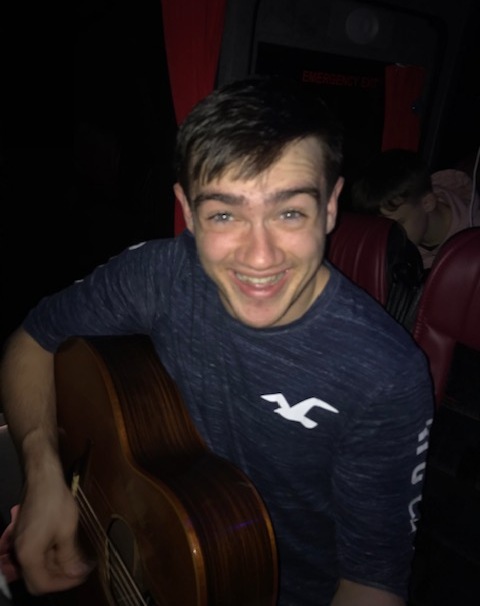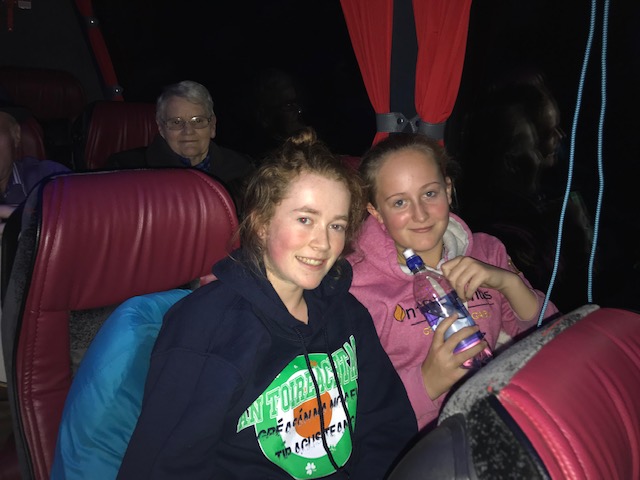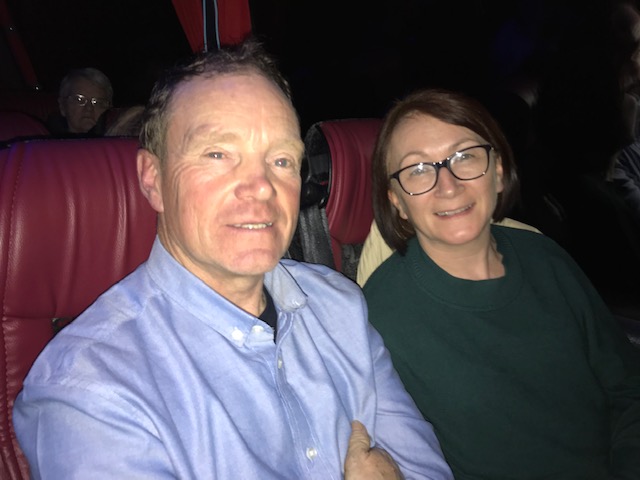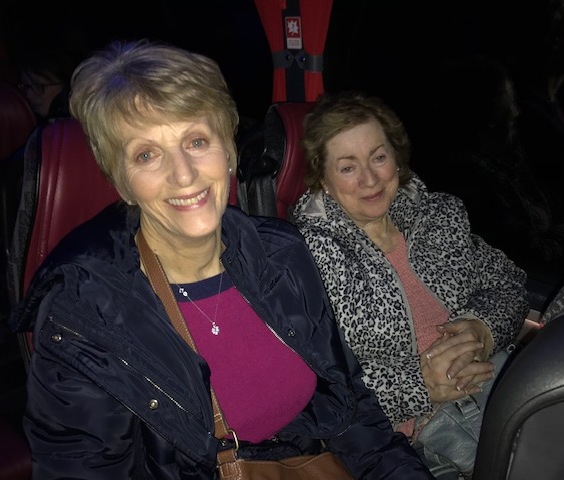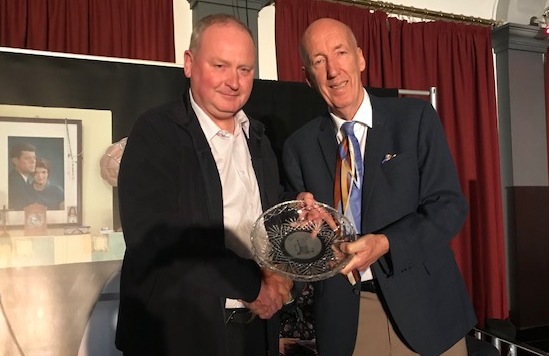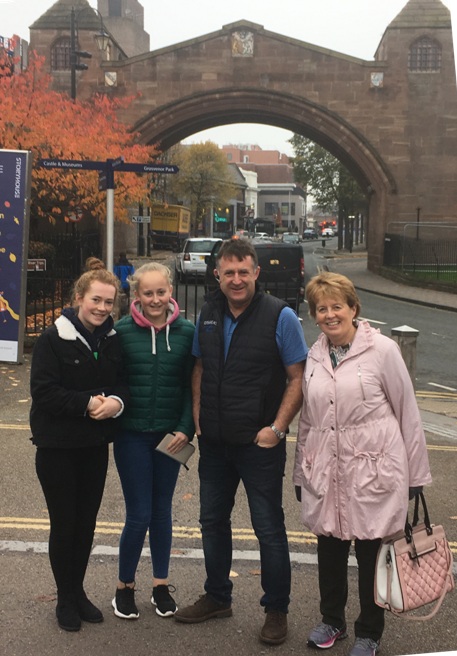 Joe Harrington of the Irish Rambling House makes a presentation to Patrick O'Connell OBE (on the left)
in appreciation of his invaluable support for the Irish Rambling House over the years.
On the right some of the ramblers on a walk-about in Chester.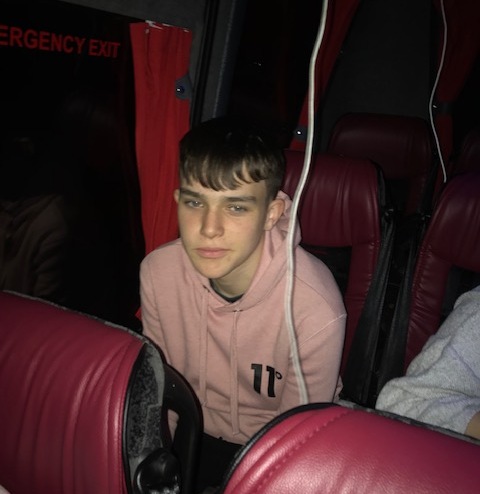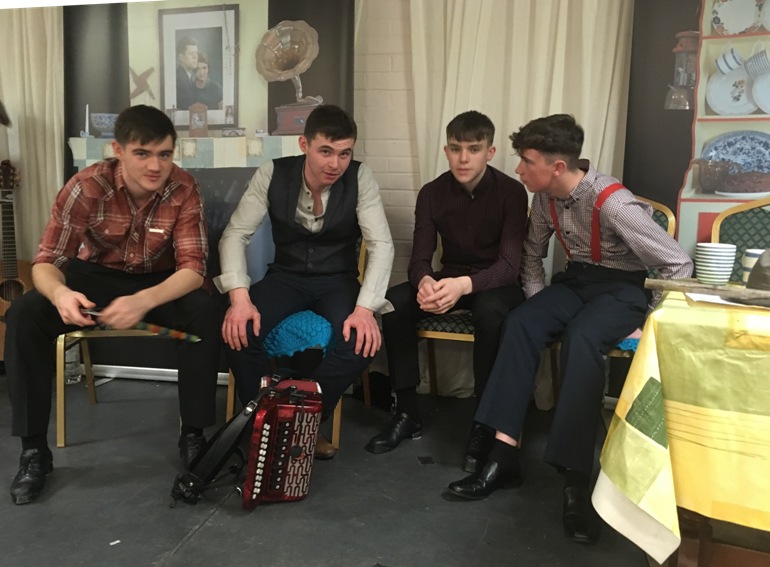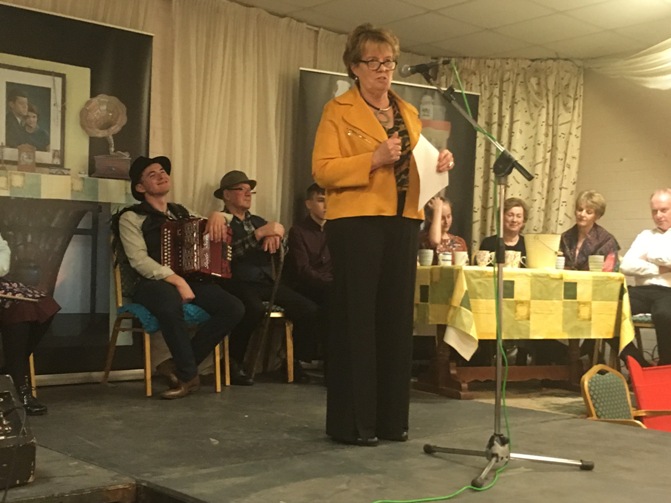 Kay O'Leary of the Irish Rambling House introducing one of the shows and, on the right Danny Tim O'Sullivan,
a great supporter of the Irish Rambling House jumps on stage in Camden to give a bar of a song.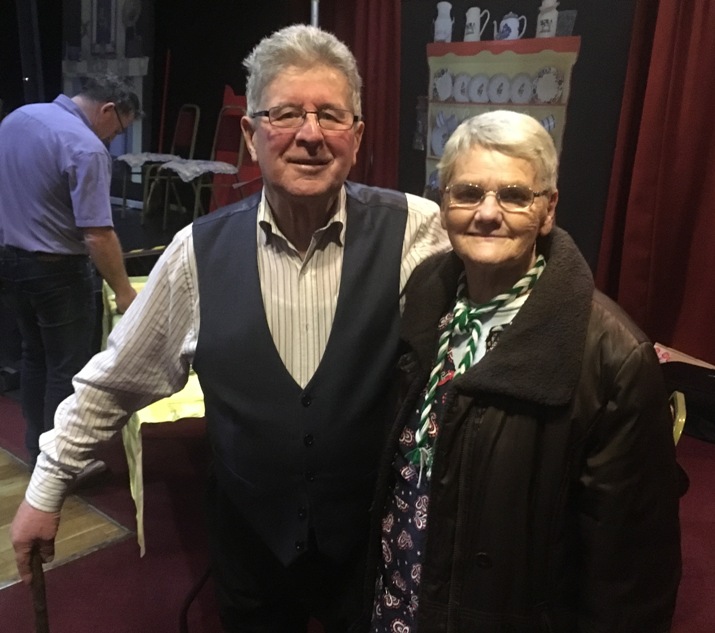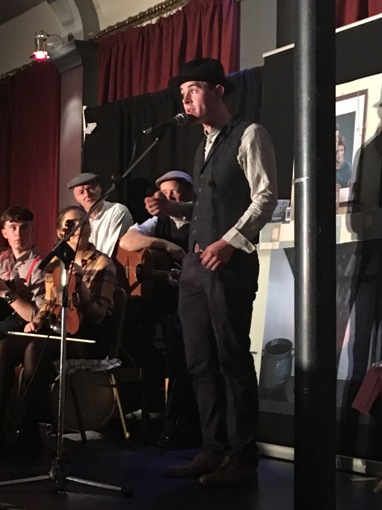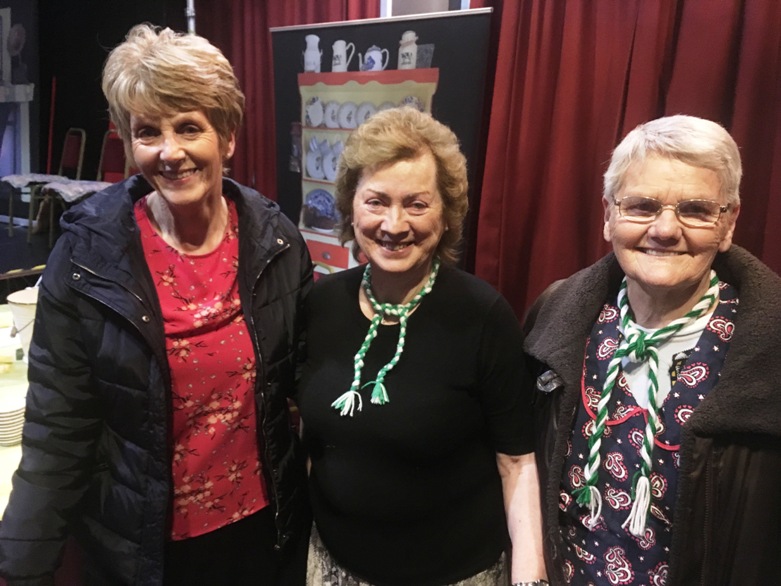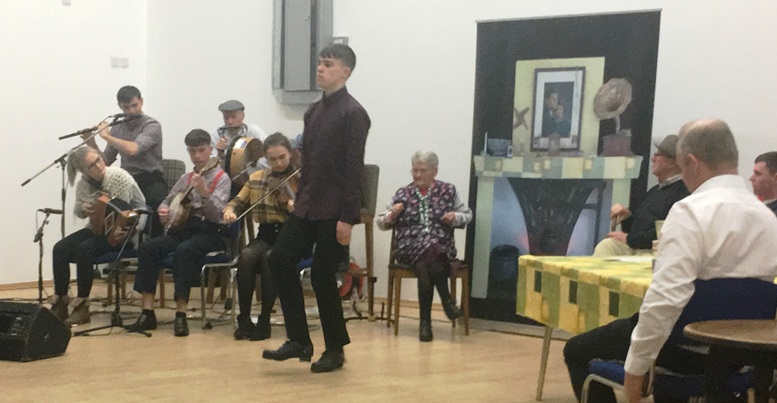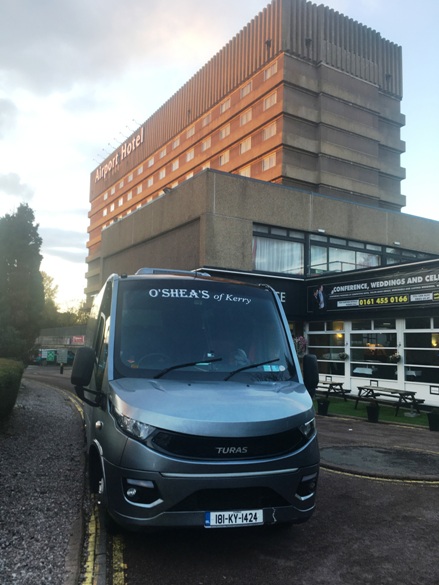 Cian Cronin takes to the floor and on the right the O'Shea's of Tralee Irish Rambling House coach
outside the Manchester Britannia Airport Hotel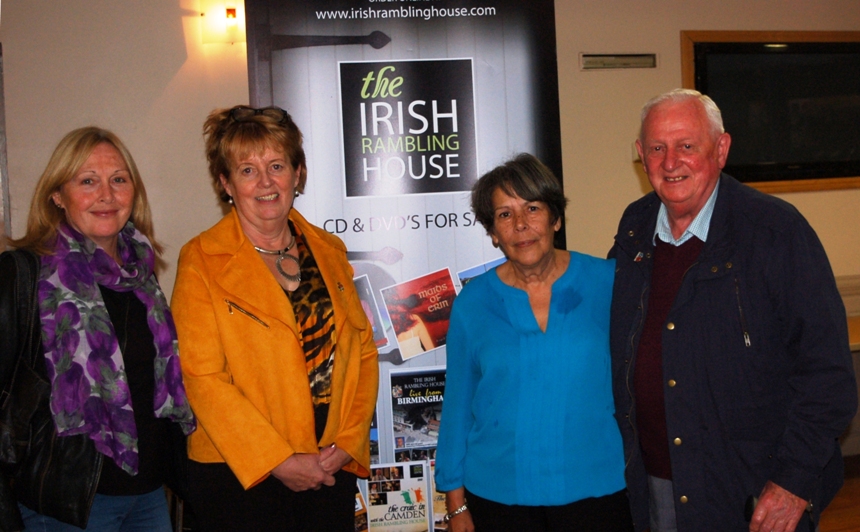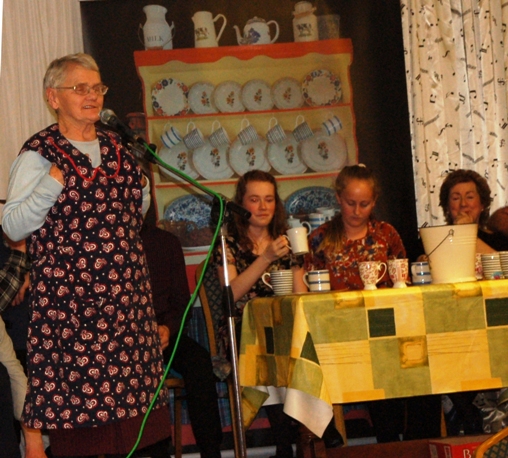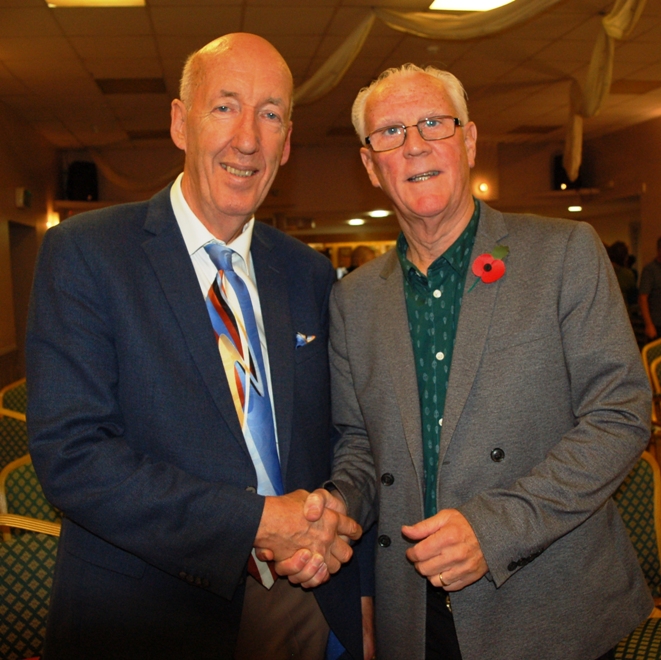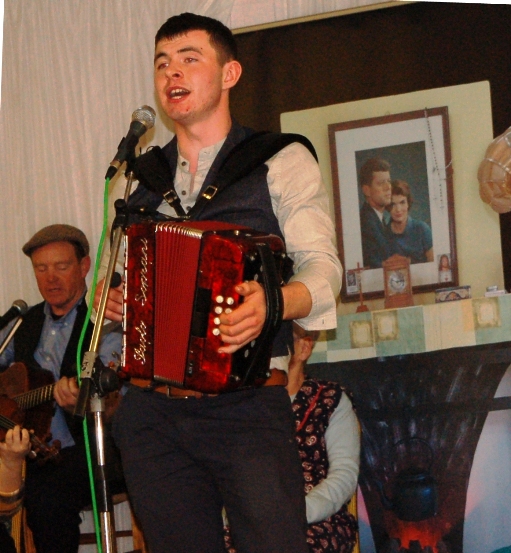 Joe Harrington meets with Jim Carway from Diverse Radio and on the right Bryan Murphy leads the sing-a-long.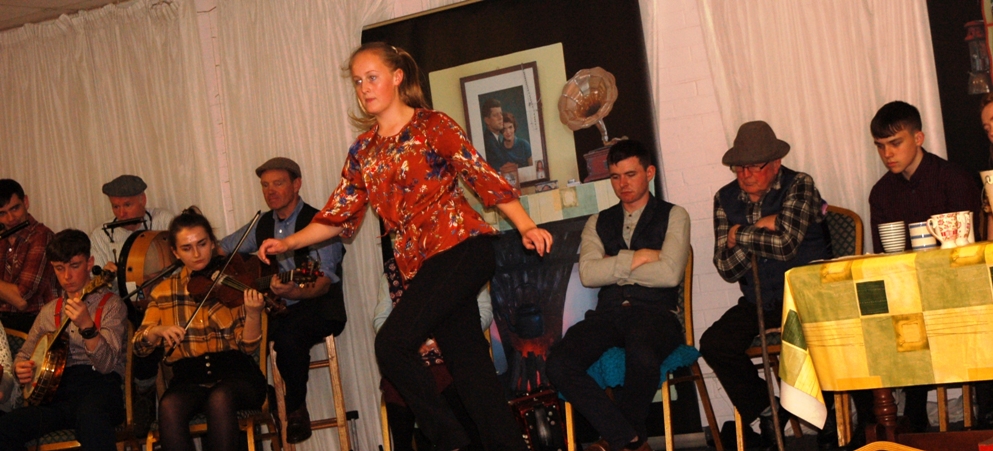 Caoimhe Lyons does the brush Dance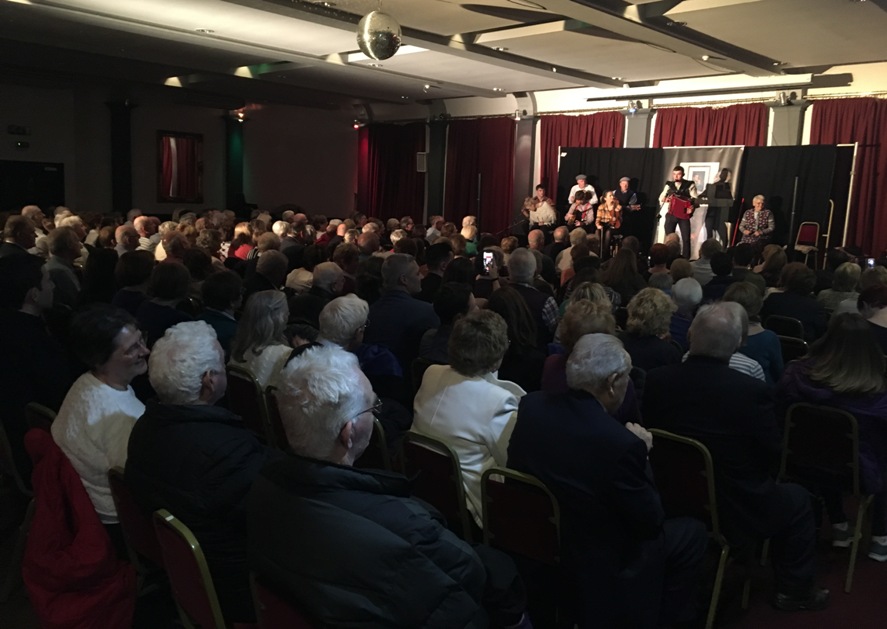 A fine turnout for the Irish Rambling House Show at the London Irish Centre, Camden 2018
---
Irish Rambling House at Siamsa Tire, Tralee, 2017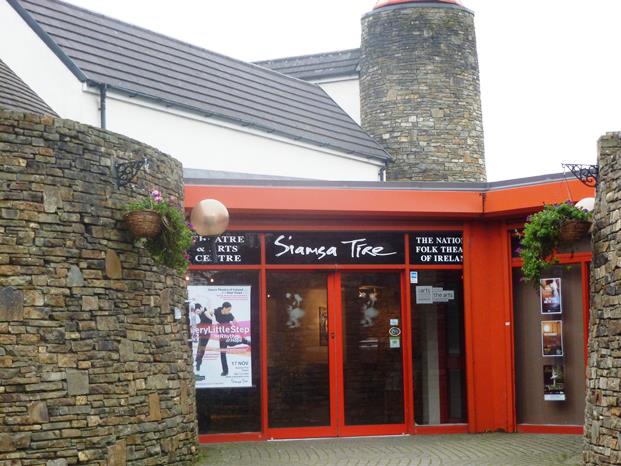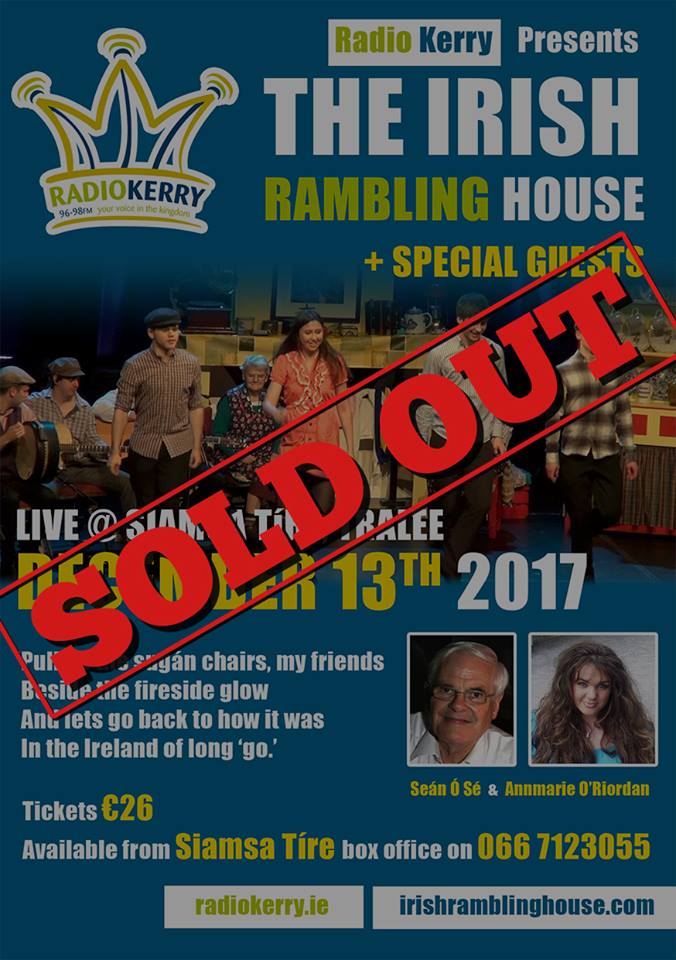 Great Irish Rambling House Show at Siamsa Tire last night. Twenty mighty entertainers and two great guests (Sean O'Sé and Annmarie O'Riordan). Packed venue and a great atmosphere. Thanks to the lovely staff at the venue and to Radio Kerry for asking us to put on the Show. The following were those on stage and where would you get a nicer and more talented group of people?....
Singers
Doris Shire The Mungret Nightengale Pat McCarthy Duagh and Dublin Young Bob Casey Clare
Storytellers
Peter Casey Co Clare Chrissie Roche Castlemahon Paddy Commane Co. Clare Noel Joyce Tipperary

Musicians
Stephen O'Leary Kilcummin Accordion Sean Kelleher Fossa Banjo and Guitar Padraig Enright Flute player Lixnaw
Sarah O'Keeffe Brosna Concertina and dance Maurice O'Keeffe Brosna Fiddle and Dance
Pat Curtin Shannagolden Mouth organ Joe Creedon Co Cork Mouth Organ and singer

Dancers
Triona Ni Shúilleabháin Ballyferritor Dancer Michael O'Sullivan Dance Caoimhe Lyons Lyreacrompane Sean Nos Dancer
Margaret Madigan Co Limerick Two hand Dances Darragh O'Donnell Co Limerick Bodhran and Dancer
Bean a Ti Angelina O'Donnell Bean a Ti Co Limerick
Rambled in - Annmarie O'Riordan and Sean O'Se.
Sound – Billy Donegan
Managed and produced by Kay O'Leary and Joe Harrington Lyreacrompane
---
2017 Irish Rambling House Tour
Our sincere thanks to all who helped make our 2017 visit to entertain the exiles such a success. It was great to meet up again with old friends, especially in Cheetham Hill, Manchester where we hadn't been for a decade. Our entertainers were mighty in what was an all new show. Their ages ranged from 11 to 80. This was our 19th trip and we look forward to meeting up with you all again for our 20th next year.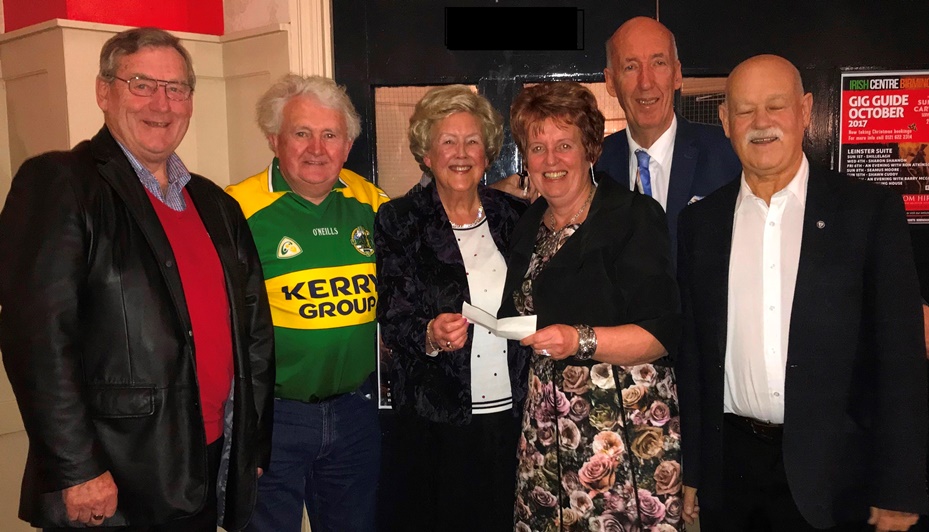 What a lovely surprise we got when we arrived in the Birmingham Irish Centre. We were approached by members of the 32 County Association which had just decided to wind up the group and who had decided to present us with a cheque for £300 - the funds remaining in their bank account. Maurice Long hopped on stage to present the cheque to Kay O'Leary, Manager of the Irish Rambling House show. This was a fantastic gesture from one non-profit community group to another non-profit group. We also take it as an appreciation of the work we do to bring our particular show to the heart of the Irish communities up and down England.
In the photo above are Eddie Falahee, Maurice Long, Peggy Falahee, Kay O'Leary, Joe Harrington and Jim Tomlinson. 32 County Association members missing from the photo are Paula Turner, Michael Tomlinson and Willie Finnegan.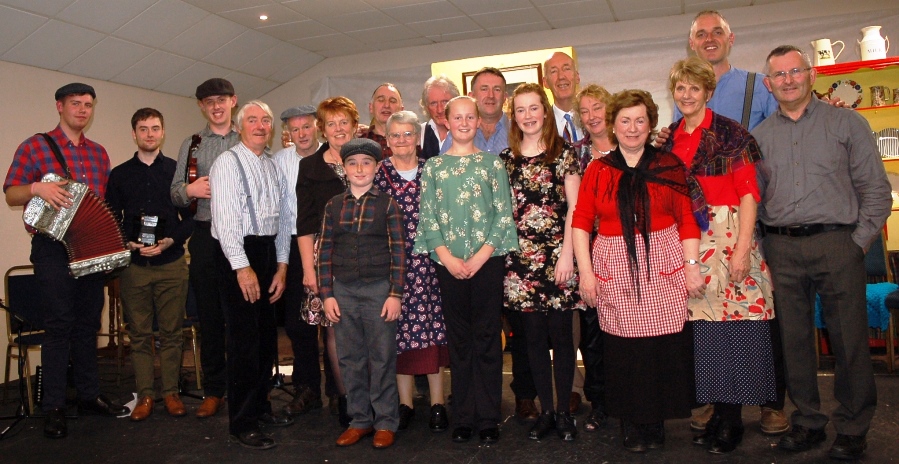 The gang's all here. The Irish Rambling House Group 2017 (Vince Shuel Irish World)

---
Photos from the 2017 trip
Taking in Manchester, Birmingham, Harrow and Luton
(Our thanks to Vince Shuel, Irish World, for some of the following photos)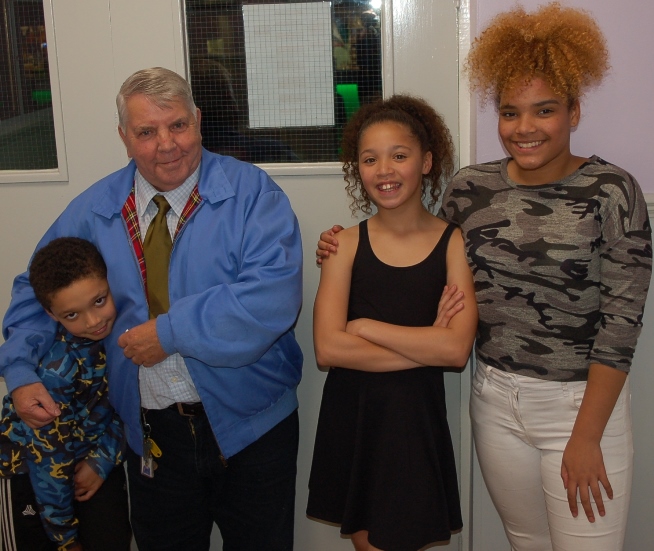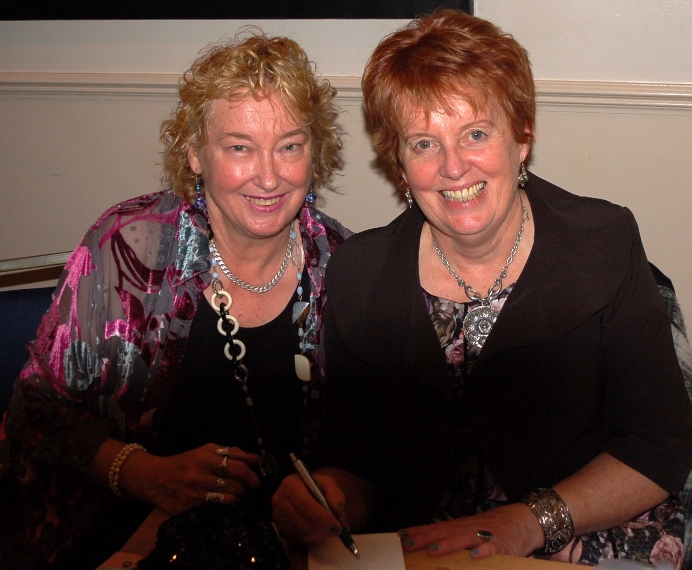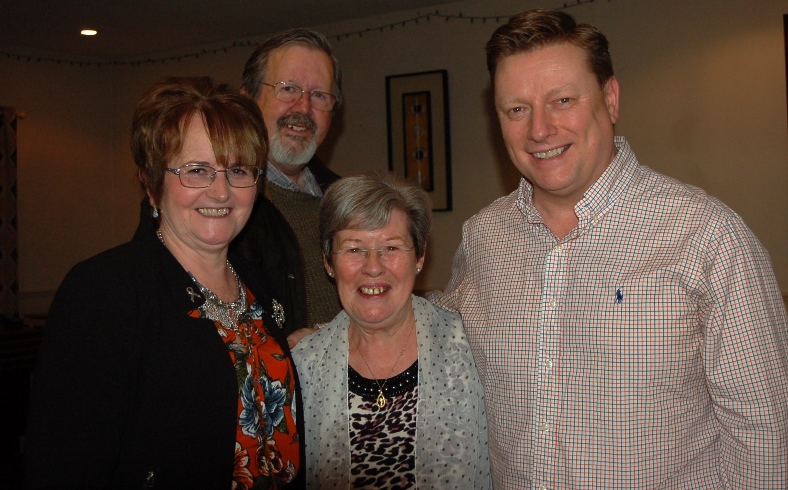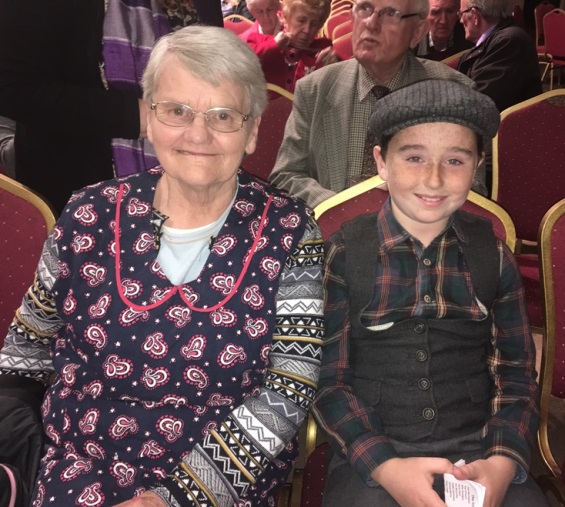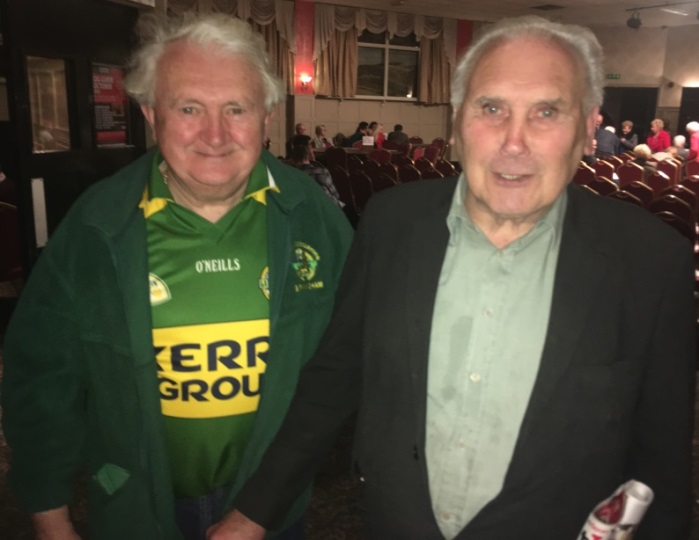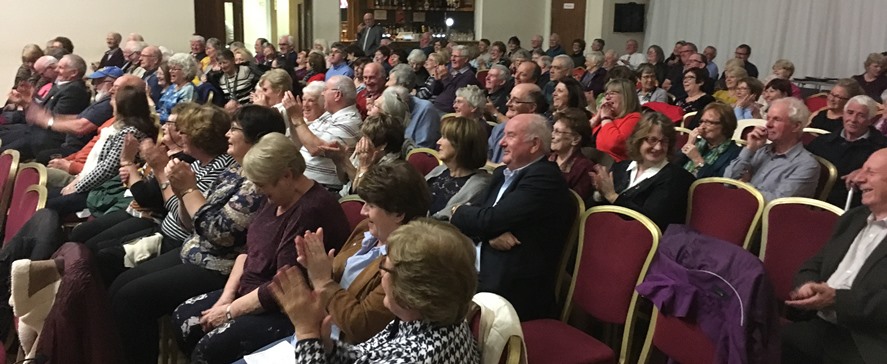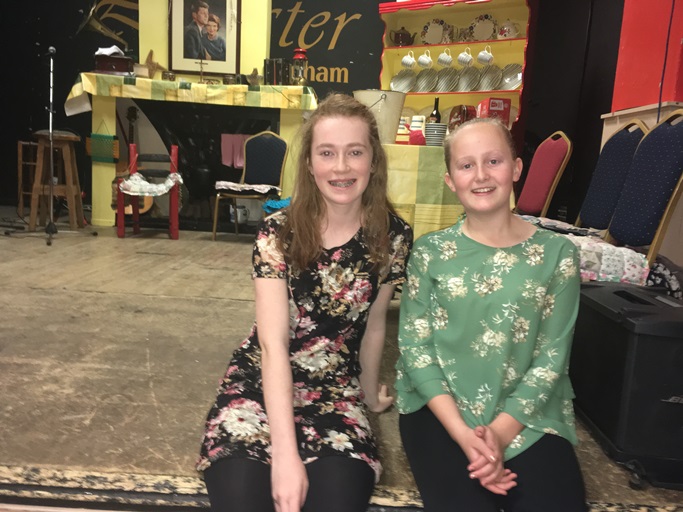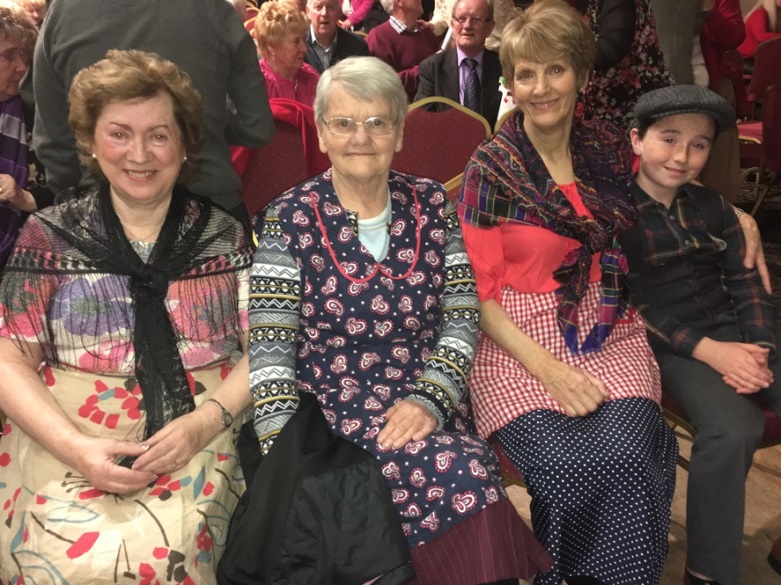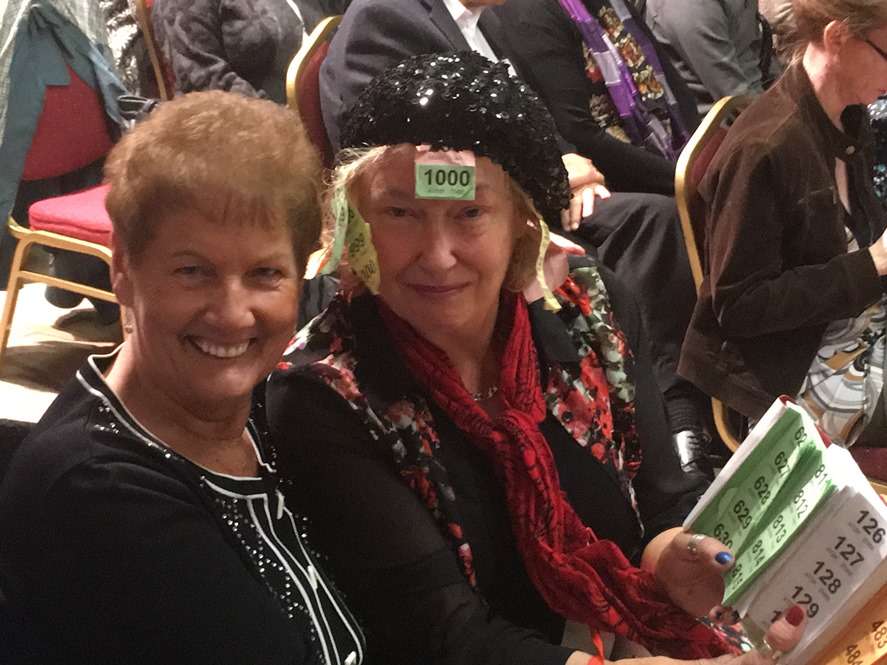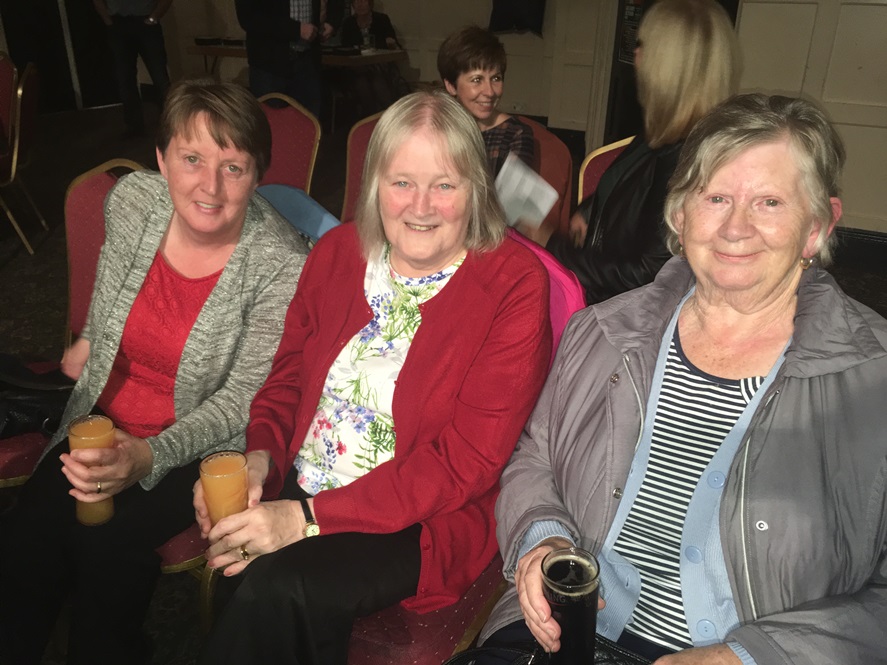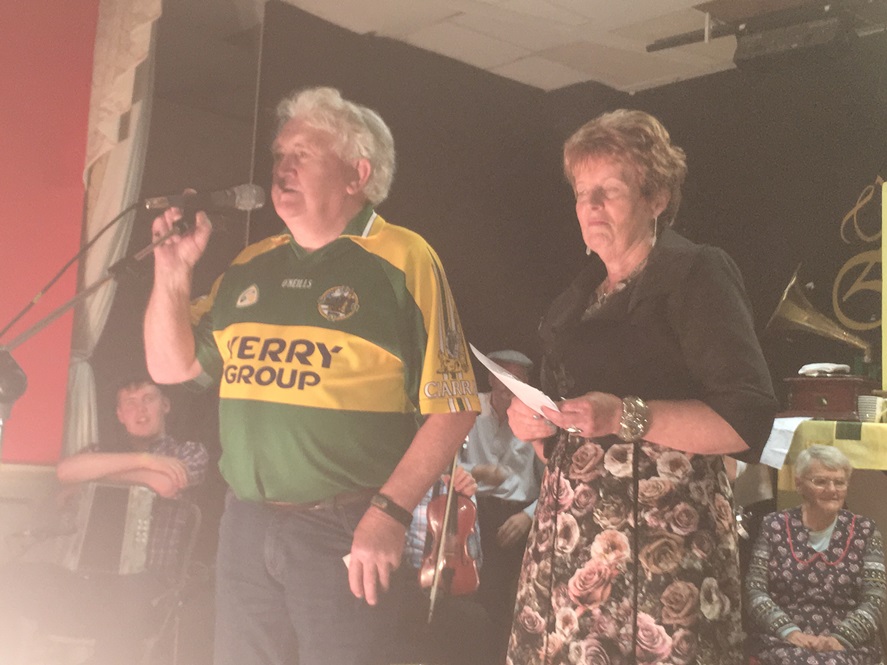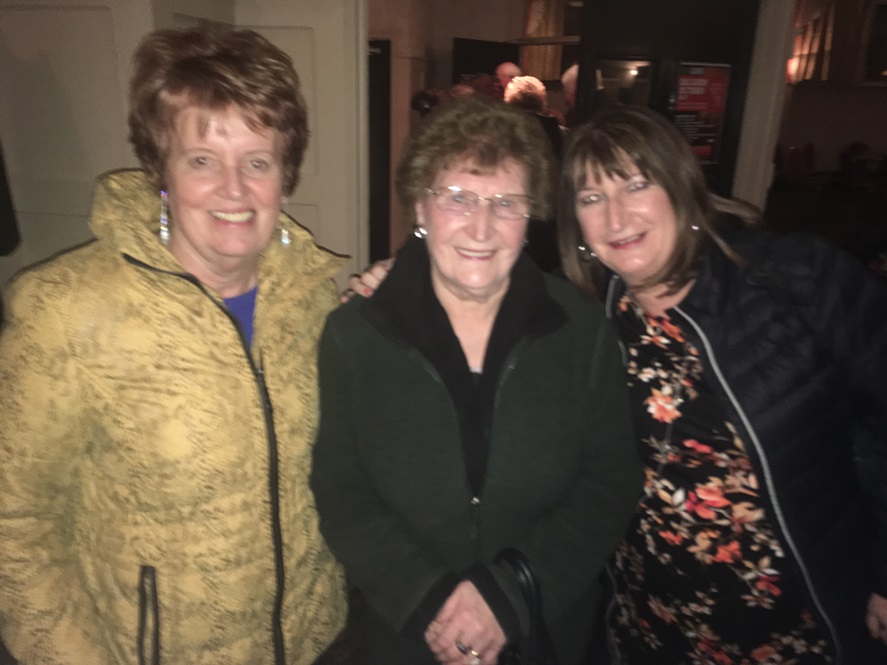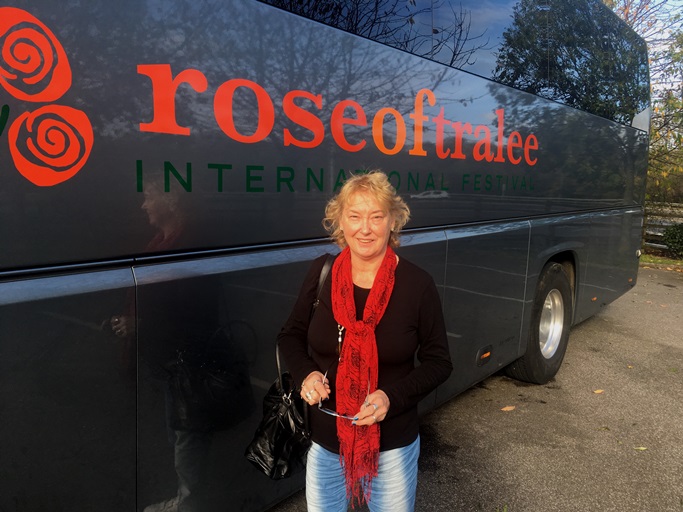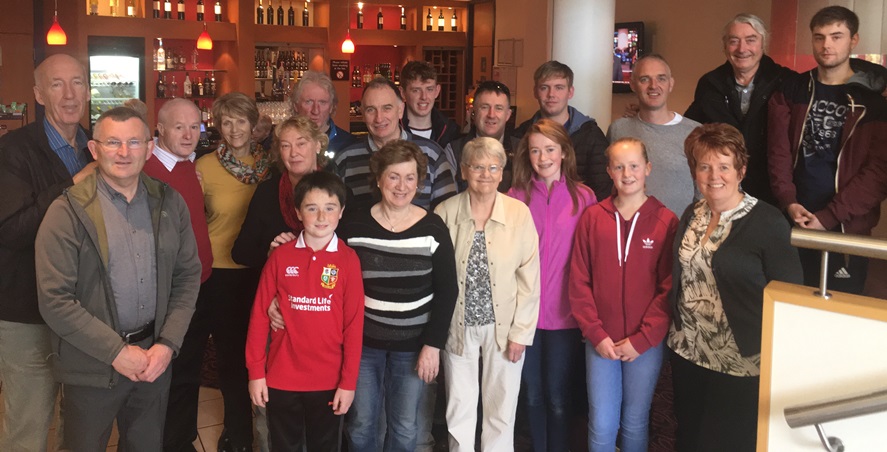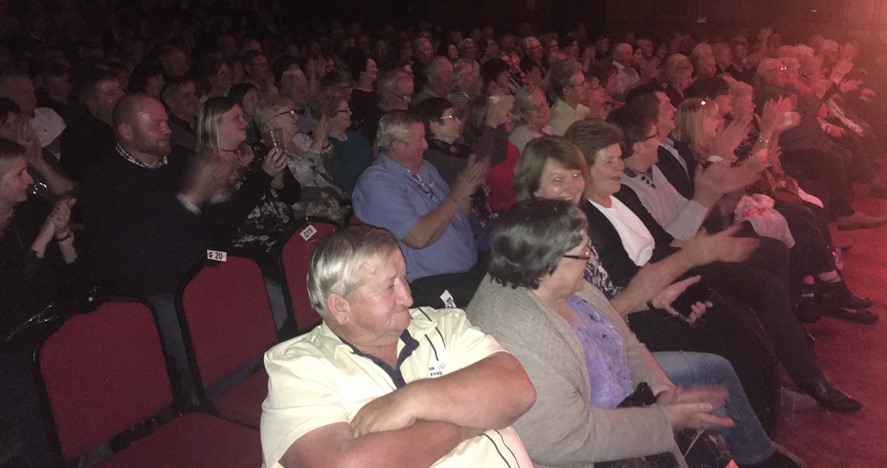 Great crowds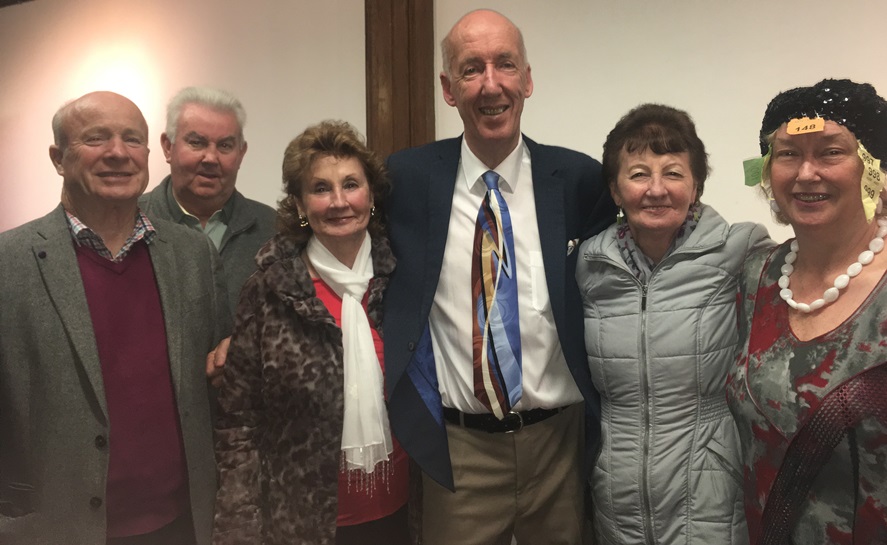 Meeting the cousins
---
Get Well Danny Tim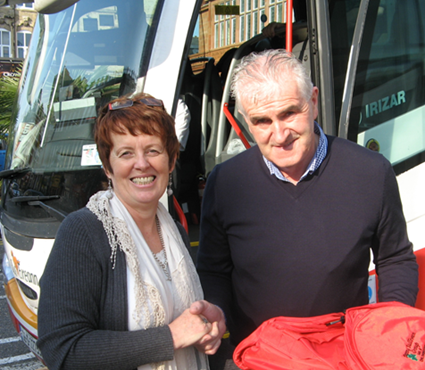 Best wishes for a quick recovery to Danny 'Tim' O'Sullivan, a true friend and supporter of the Irish Rambling House Show. A former Dublin and London Kerry Person of the Year, Danny is respected at home and among the exiles in England for his support for worthy causes and for all things Irish. All at the Irish Rambling House are thinking of you, Sheila and your family.
---
2016 Irish Rambling House Tour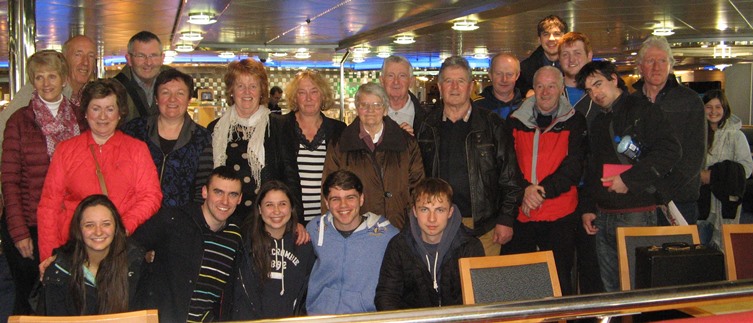 On the Ferry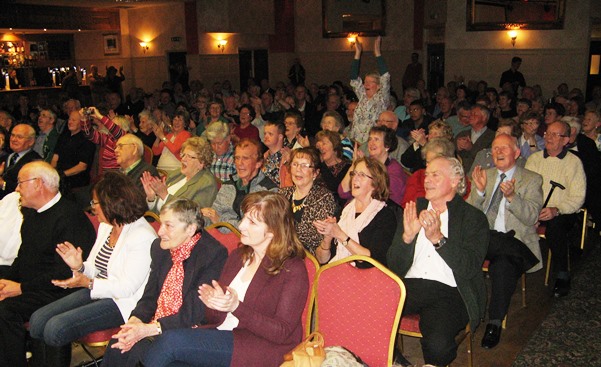 Part of the full house at the Birmingham Irish Centre
---
Irish Rambling House 2015 Tour Photos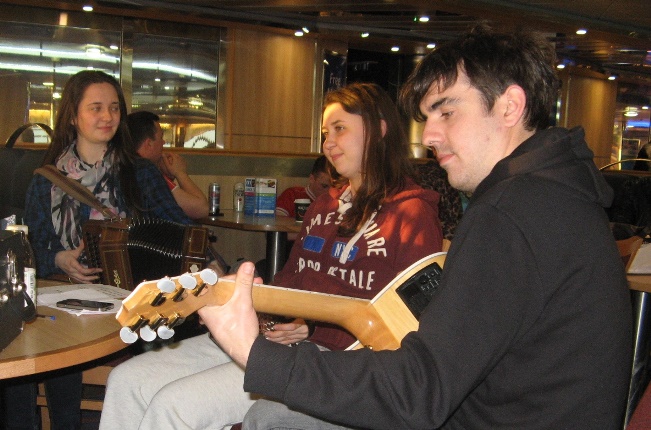 Rehearsals on the ferry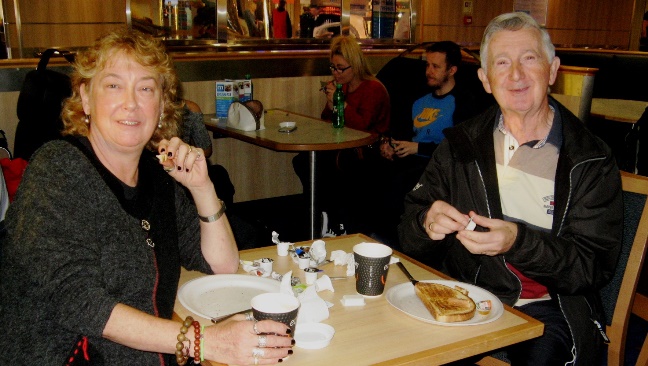 Helen and Mike having breakfast on the ferry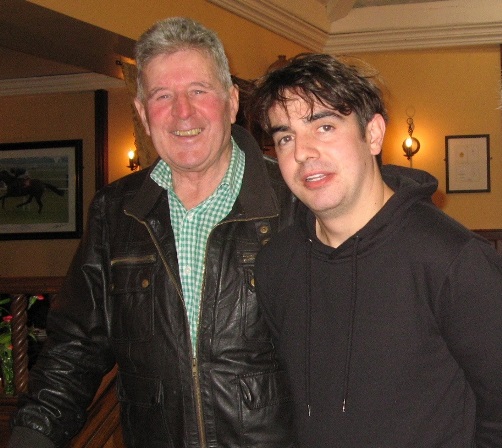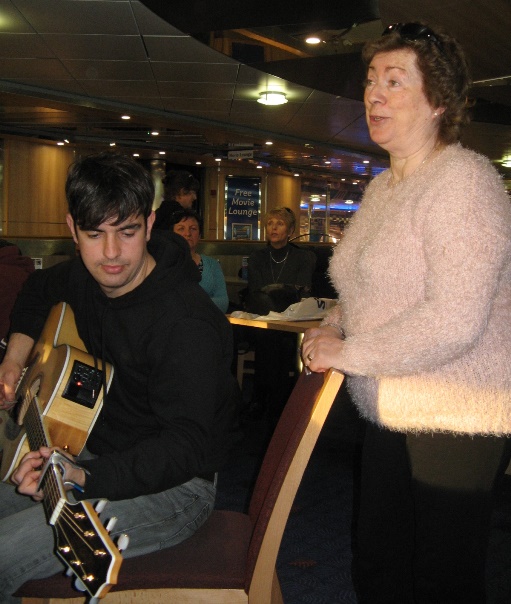 More rehearsals on the ferry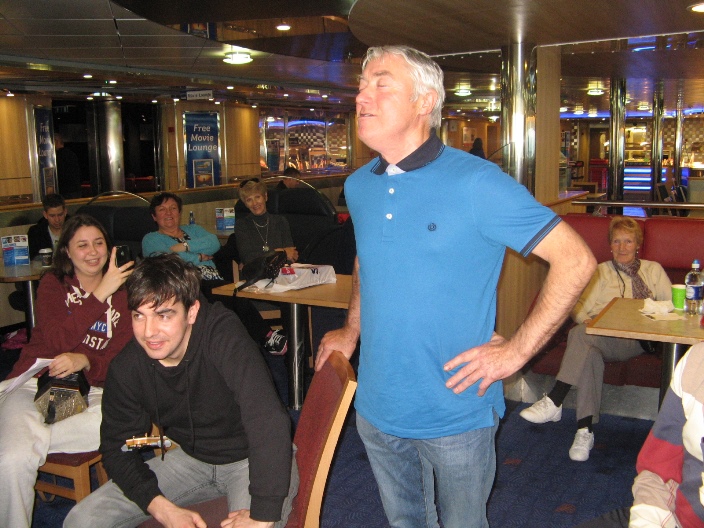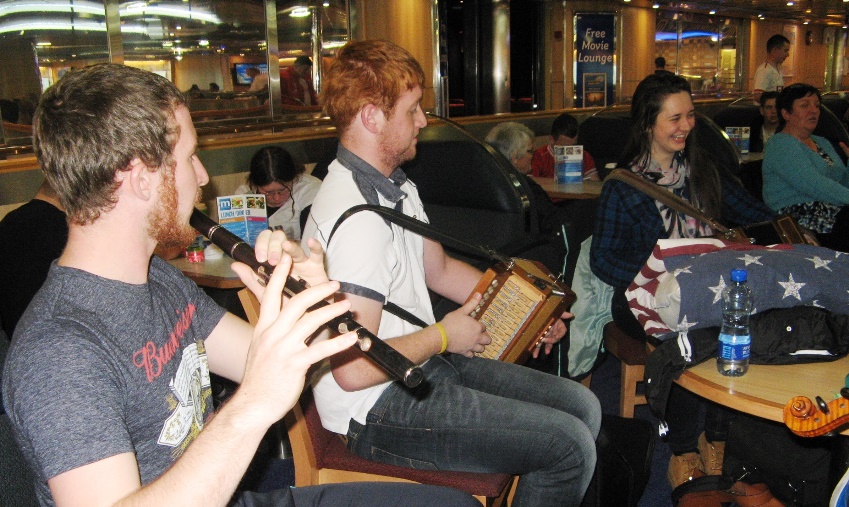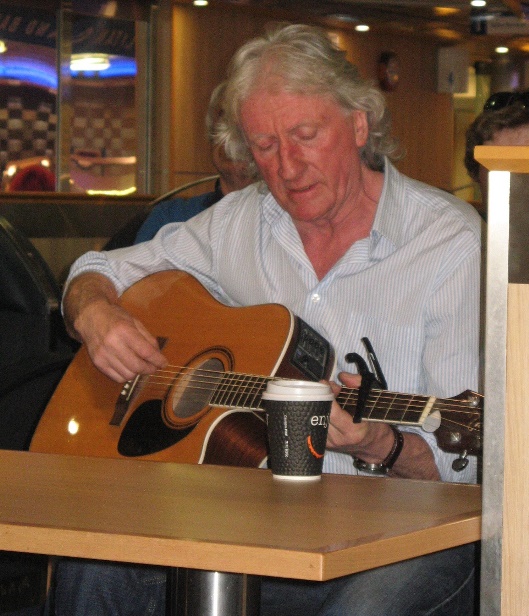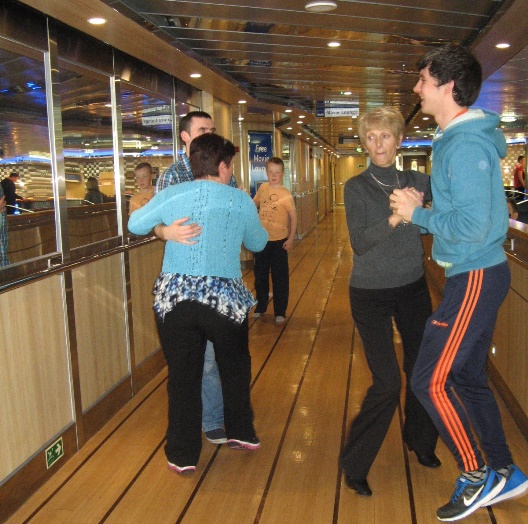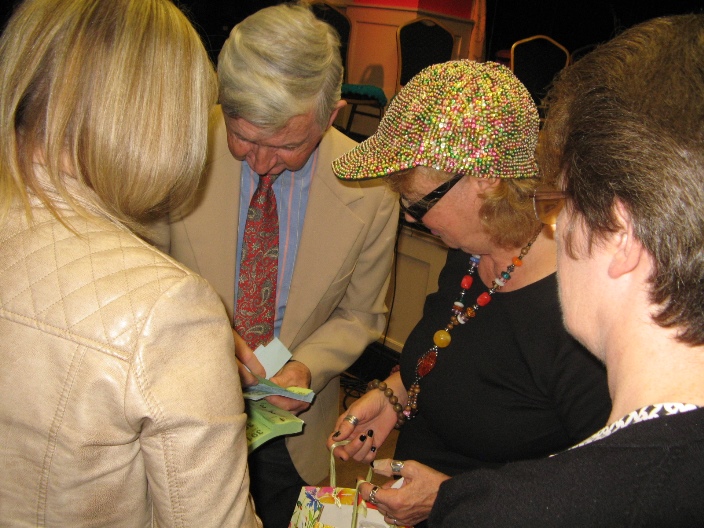 Mike Mangan and Helen Schisas on raffle duty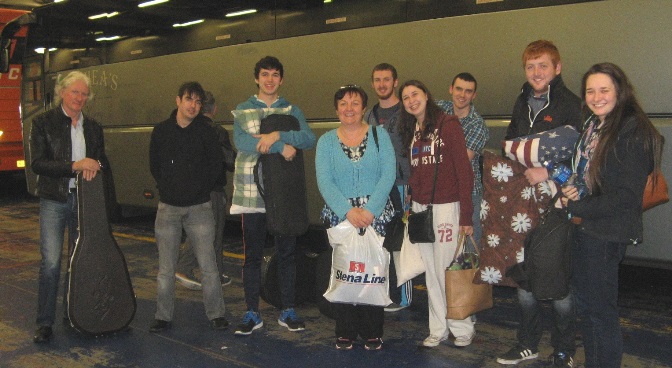 Ready for a nap on the coach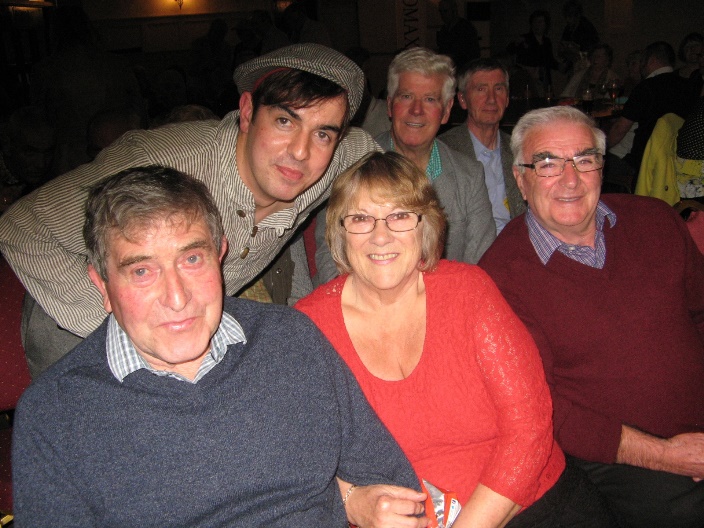 Tom McGinty meets up with some cousins from Mayo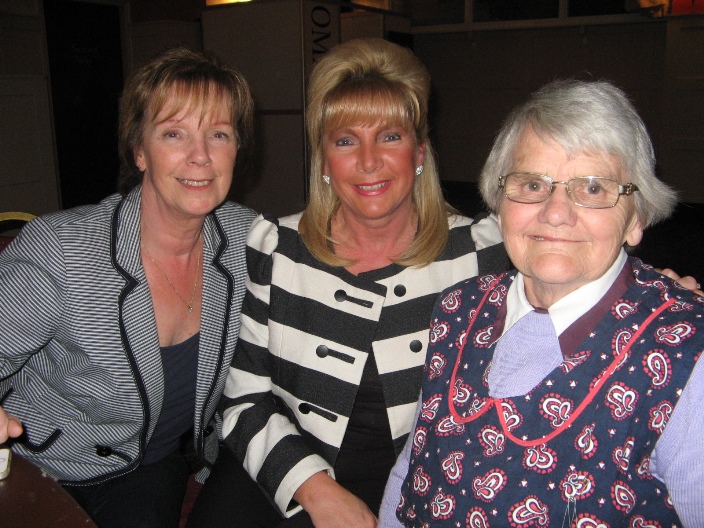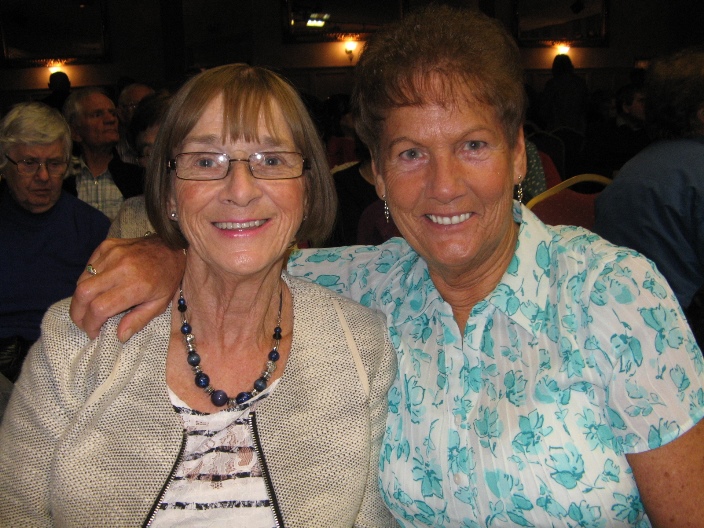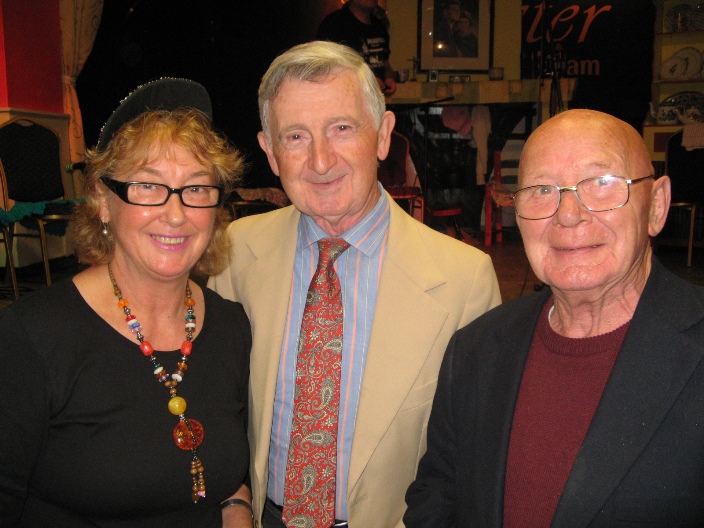 Helen, Mike and Liam Óg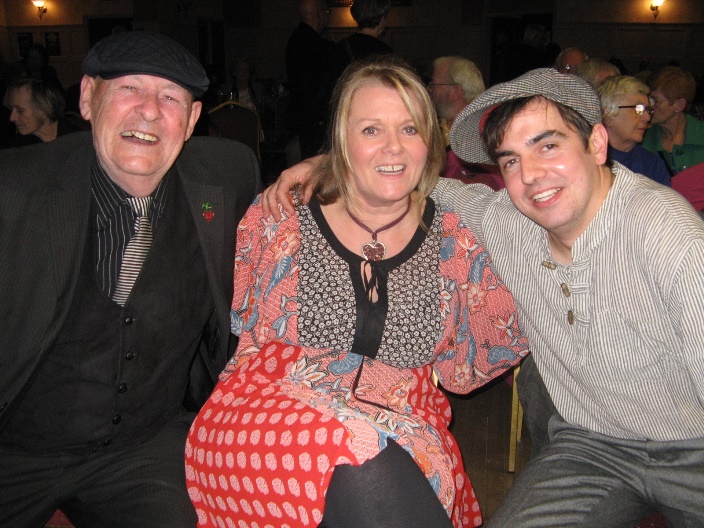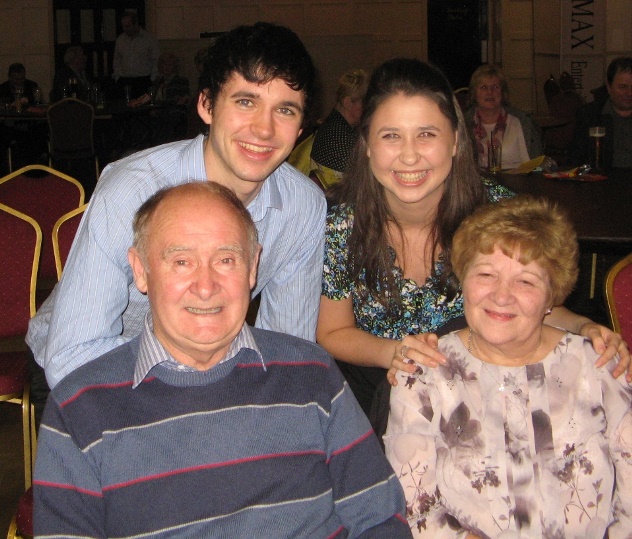 Maurice and Sarah meet up with their Granduncle and Grandaunt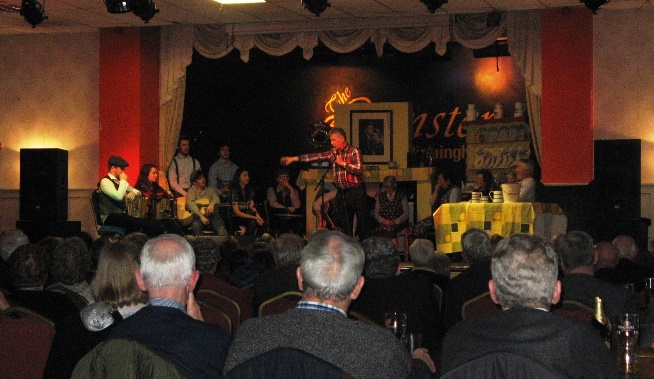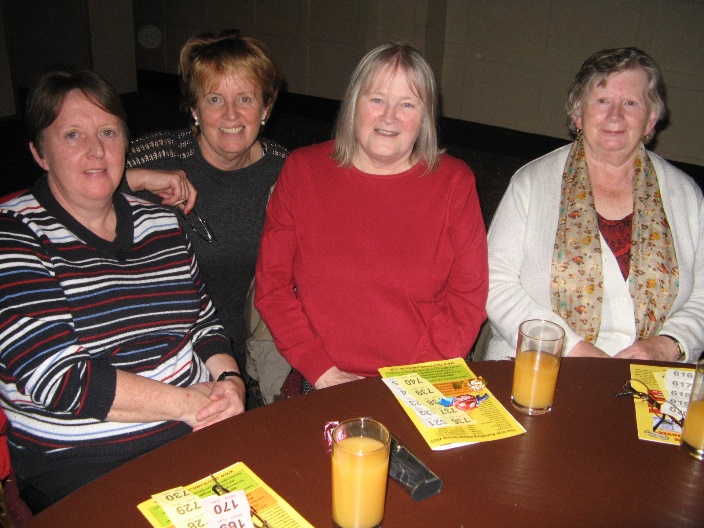 Mary O'Sullivan Enright, Lyre and B'ham, and friends chatting with Kay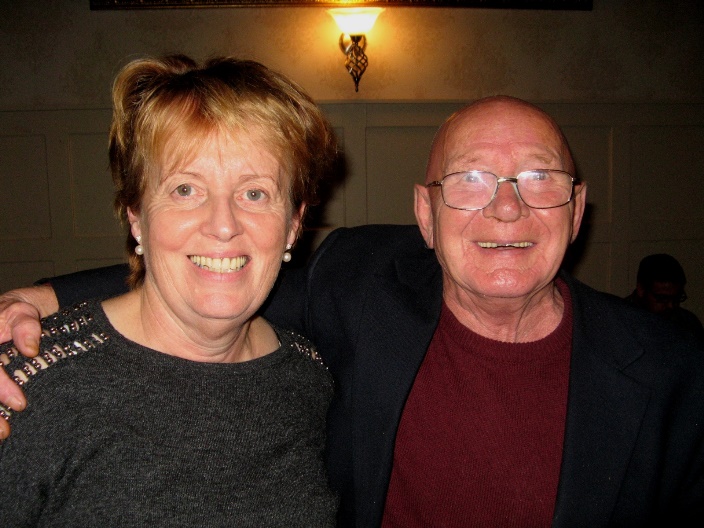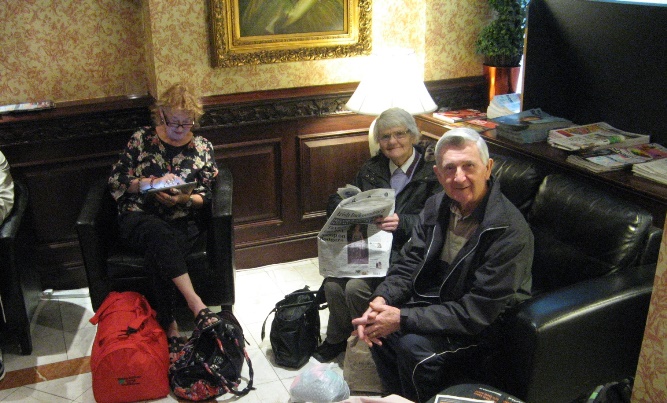 Kay with Liam Óg Waiting in the lobby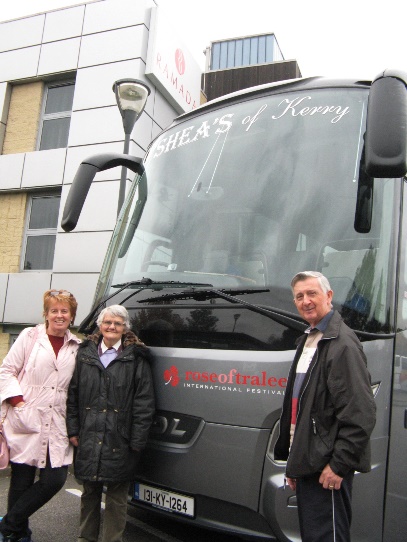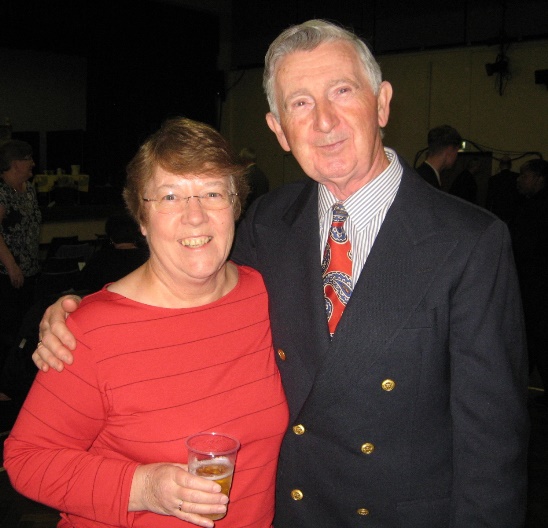 Mike with some Roses!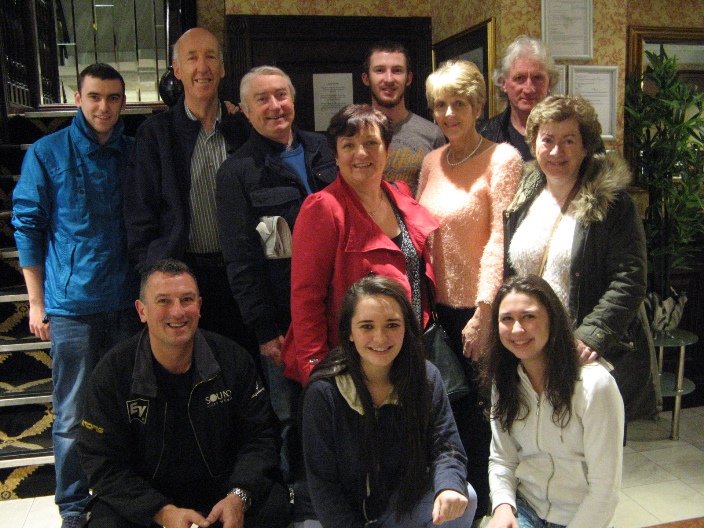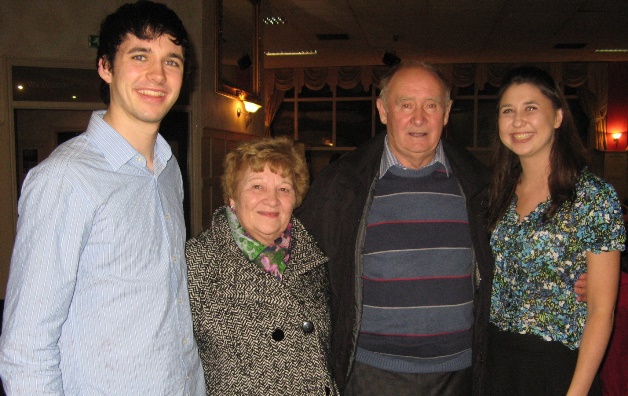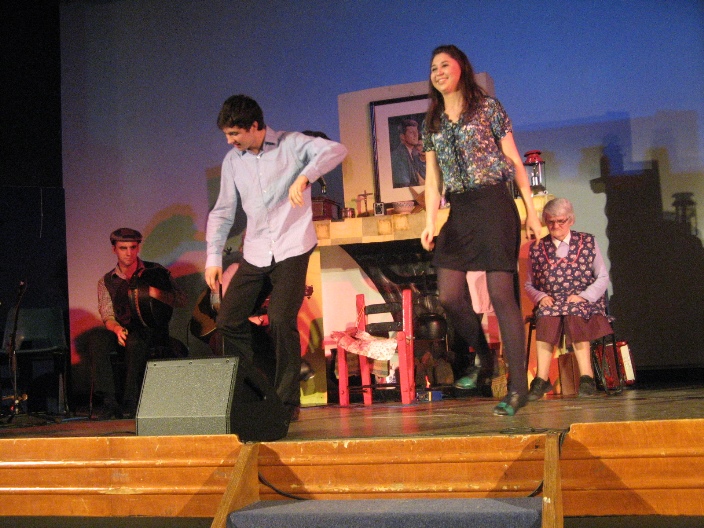 Maurice and Sarah O'Keeffe to the fore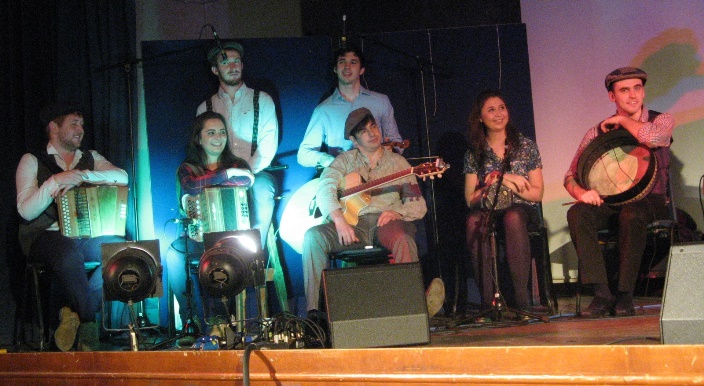 Kevin O'Neill, Jenny Murphy, Seamus Harnett, Maurice O'Keeffe,
Tom McGinty, Sarah O'Keeffe and Darragh O'Donnell.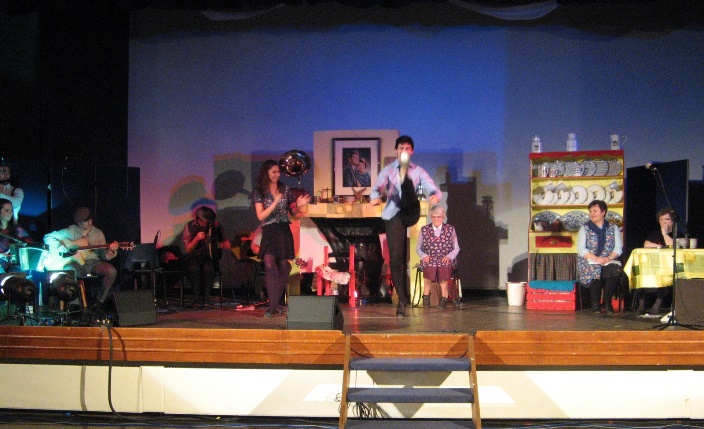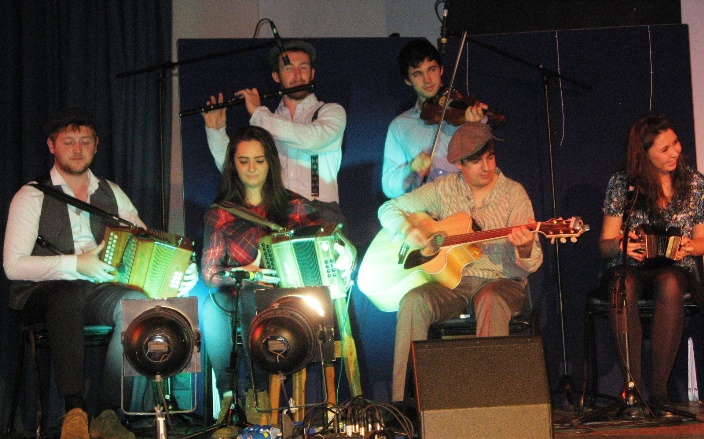 The best of Music from the Irish Rambling House musicians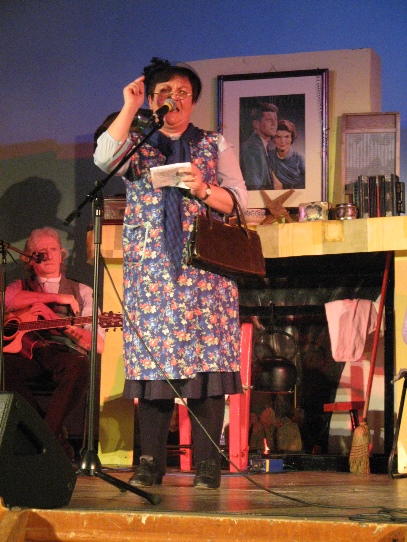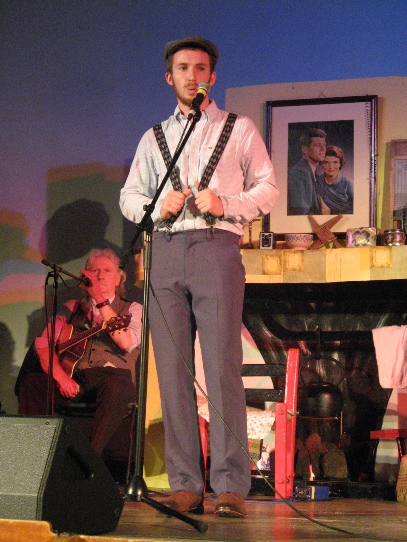 Angeline O'Donnell giving out and Seamus Harnett whistling his tune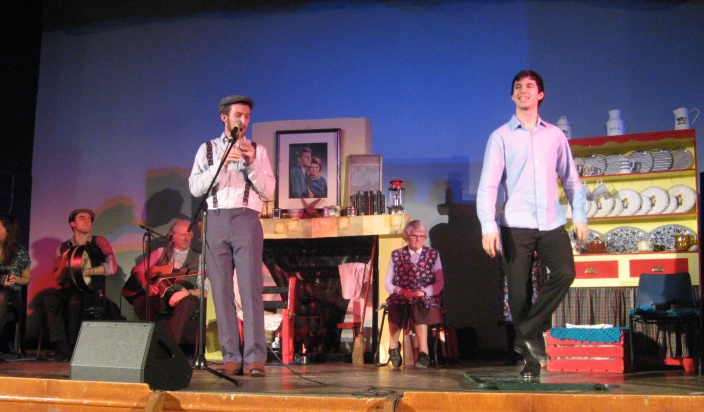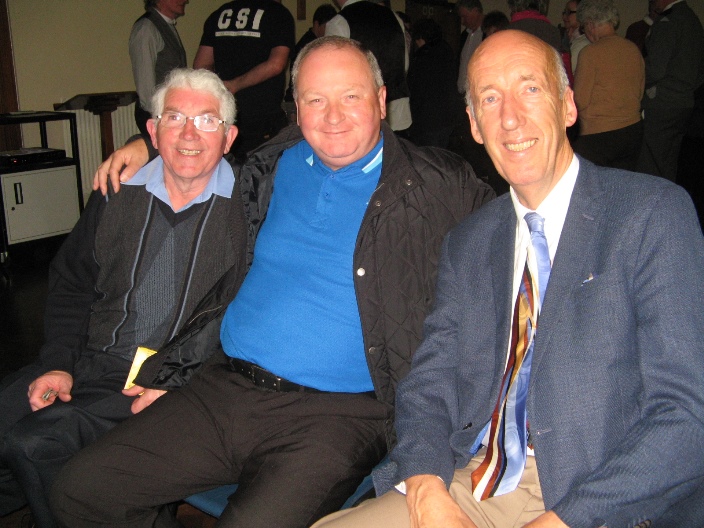 Joe met up with Willie and Patrick from Harrow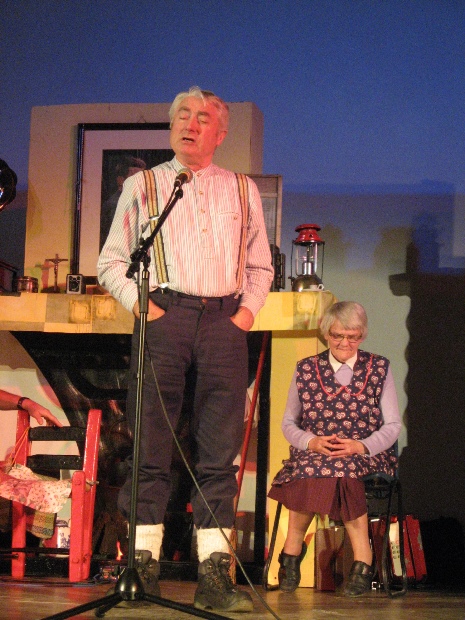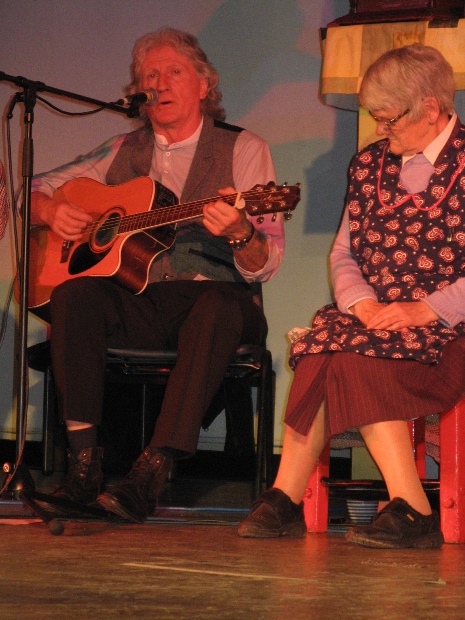 Paddy Commane and Pat McCarthy on stage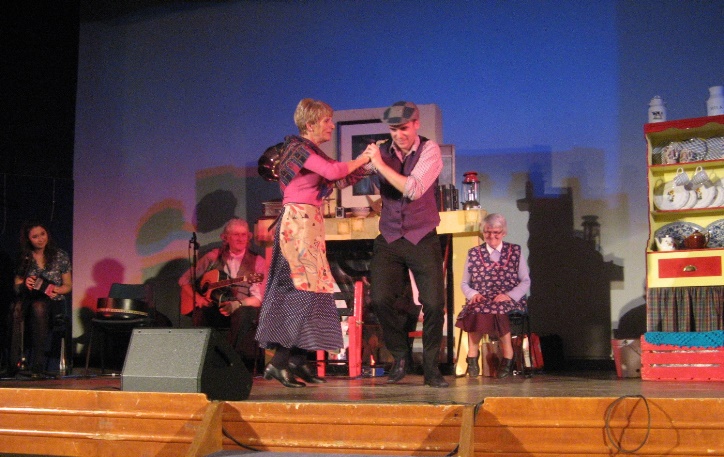 Margaret Madigan and Darragh O'Donnell step it out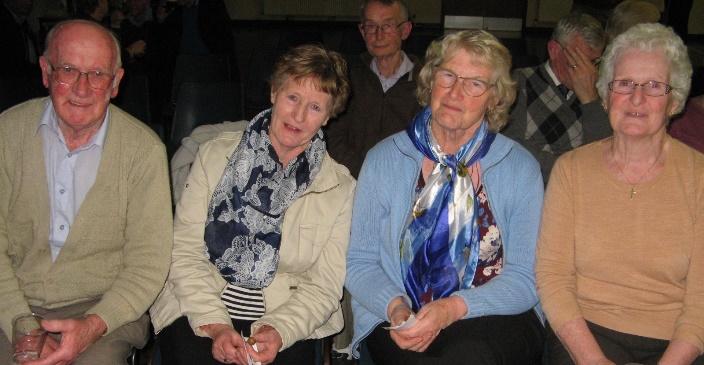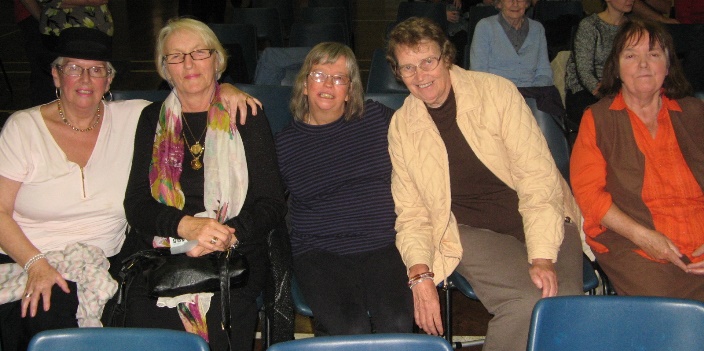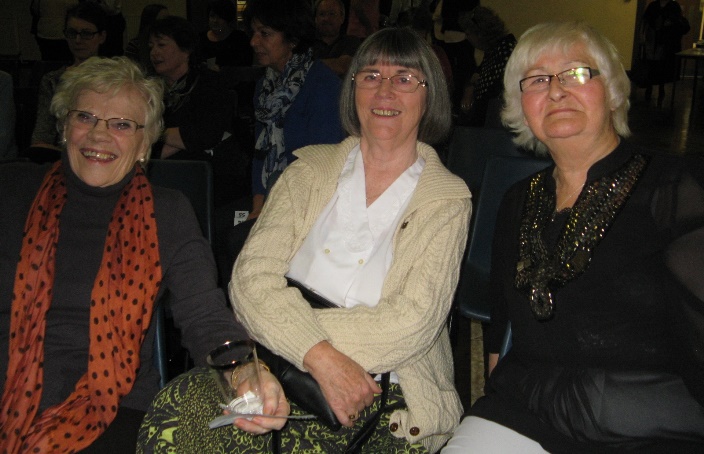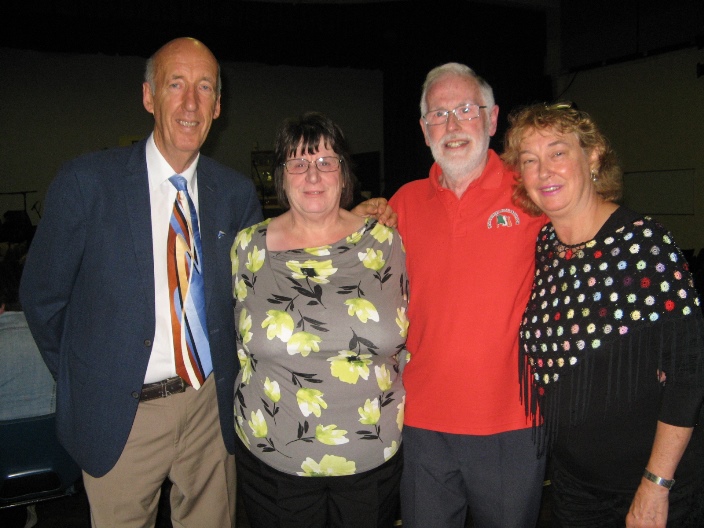 Irish Country Music Radio presenters Joe and Helen meet up with
listeners to the station, Robin and Rosemary from Stevenage.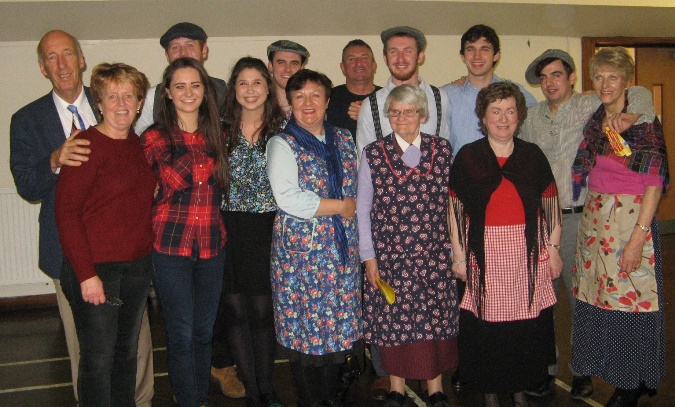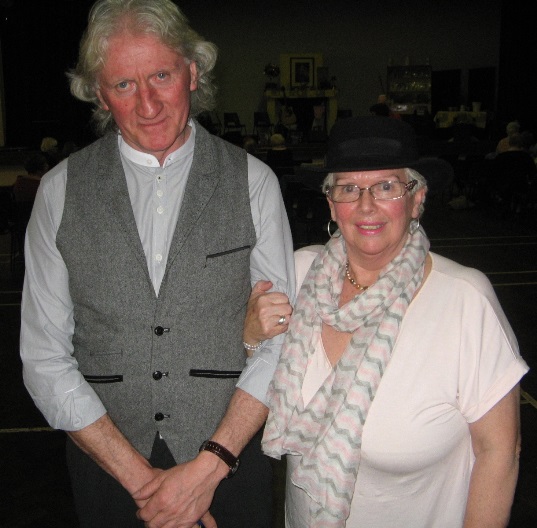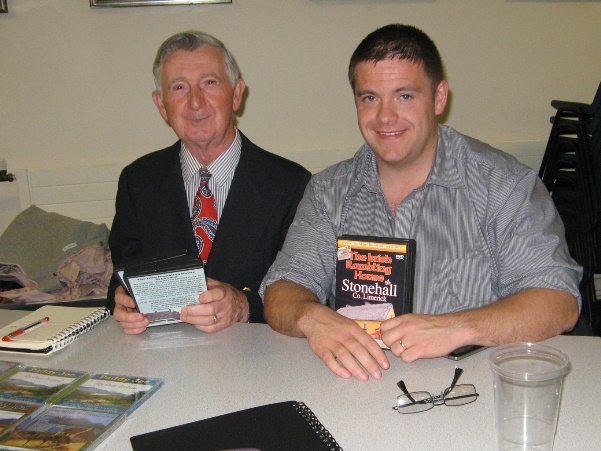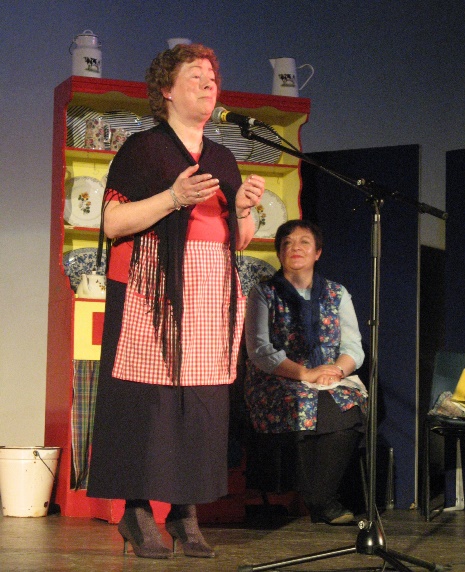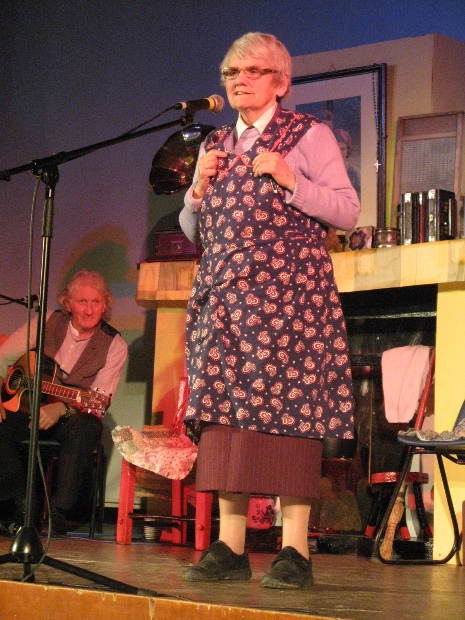 Doris Shire and Chrissie Roche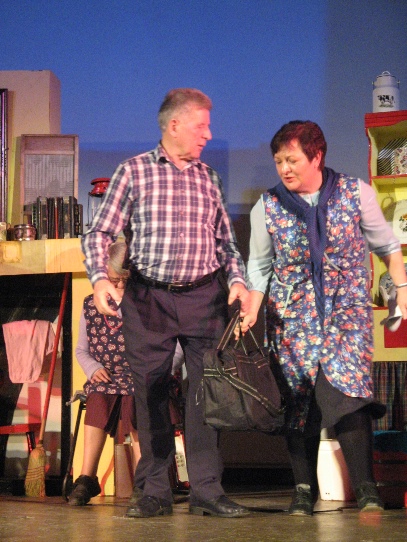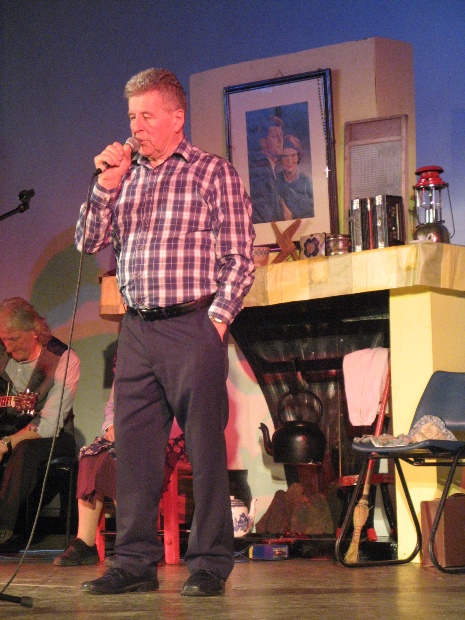 Paddy Joe from Mayo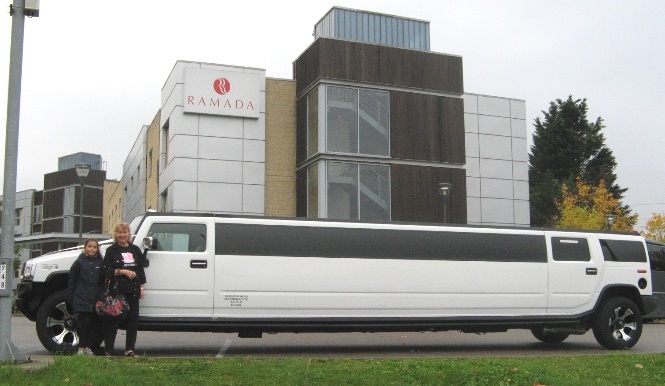 Aleena from London meets her grandaunt Helen.
Don't know who owns the Hummer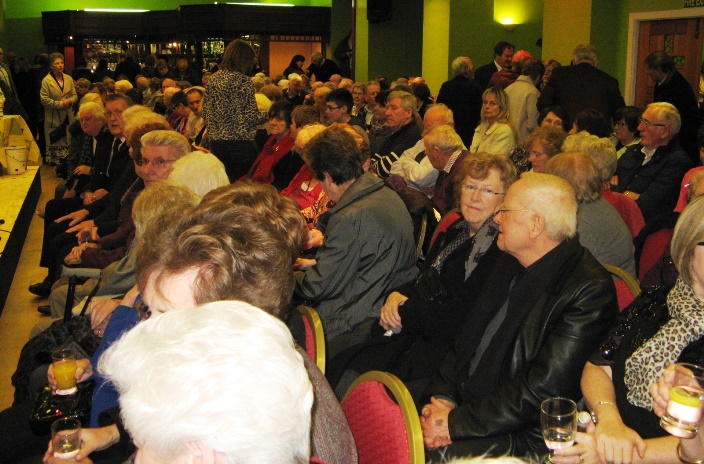 Part of the full house at Dollis Hill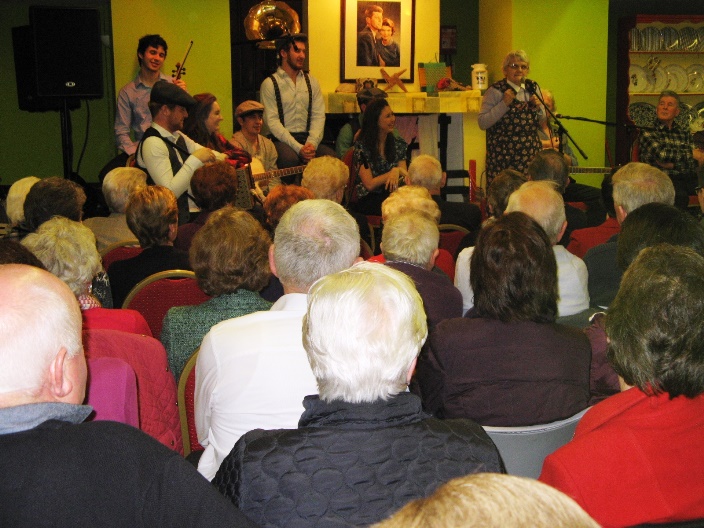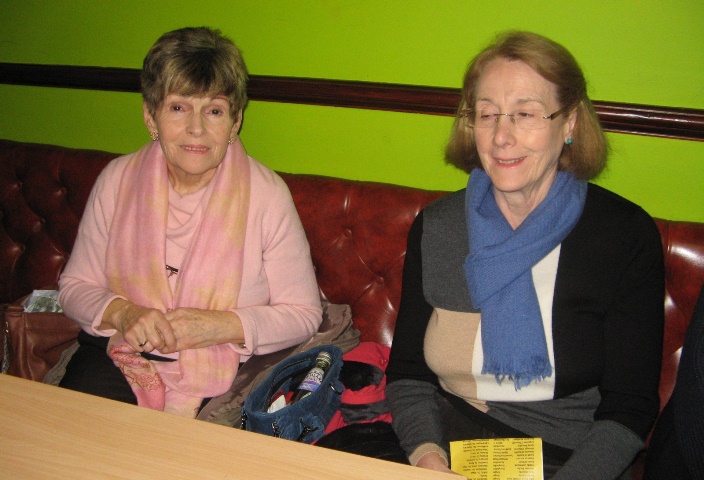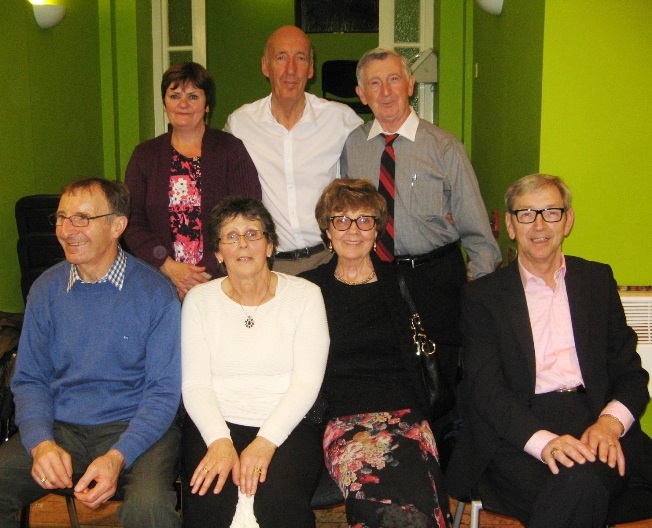 Connecting up with Lyreacrompane exiles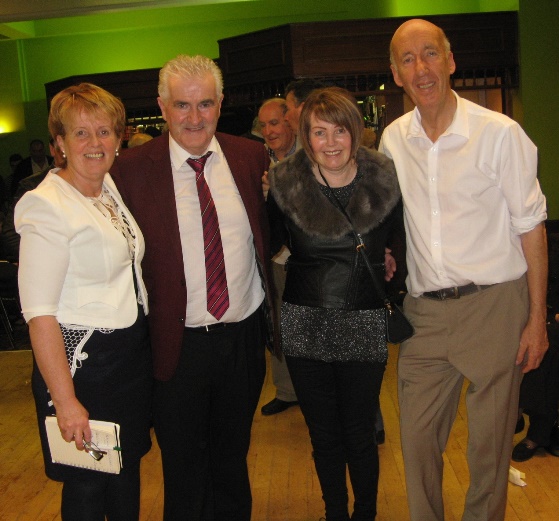 Kay O'Leary, Danny and Sheila O'Sullivan and Joe Harrington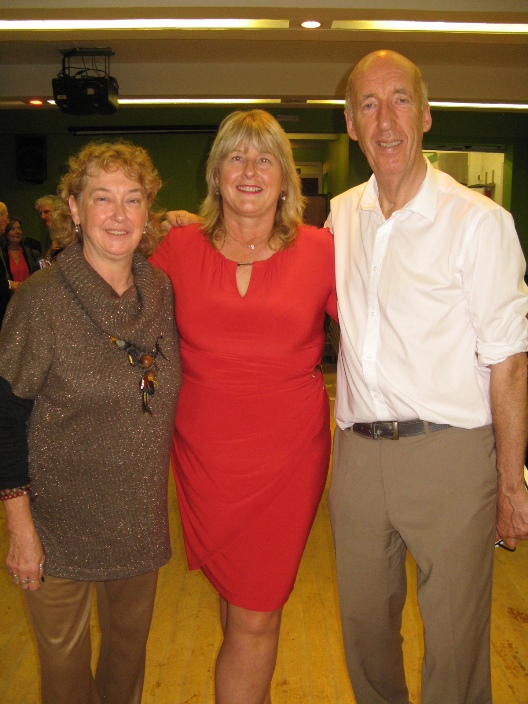 Met up with Lucia Butler from the Irish World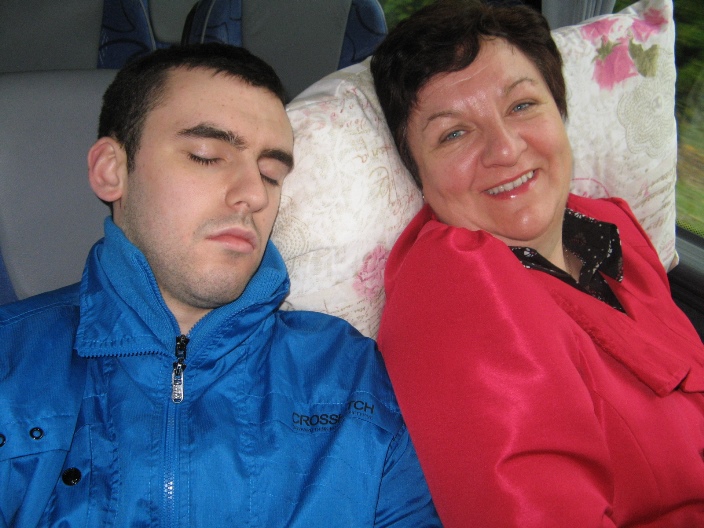 Mother and son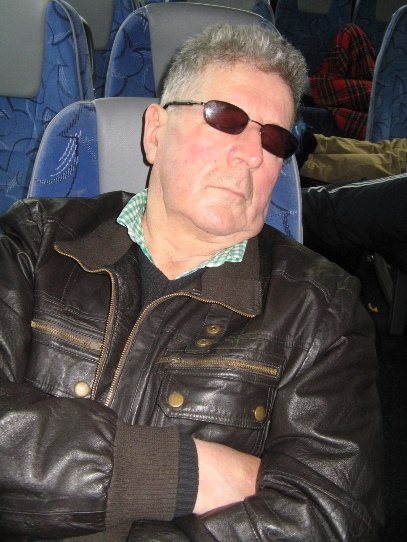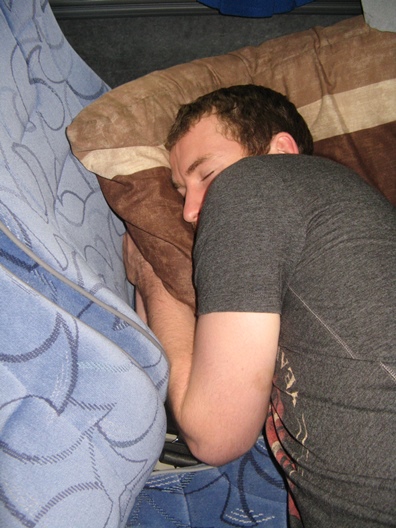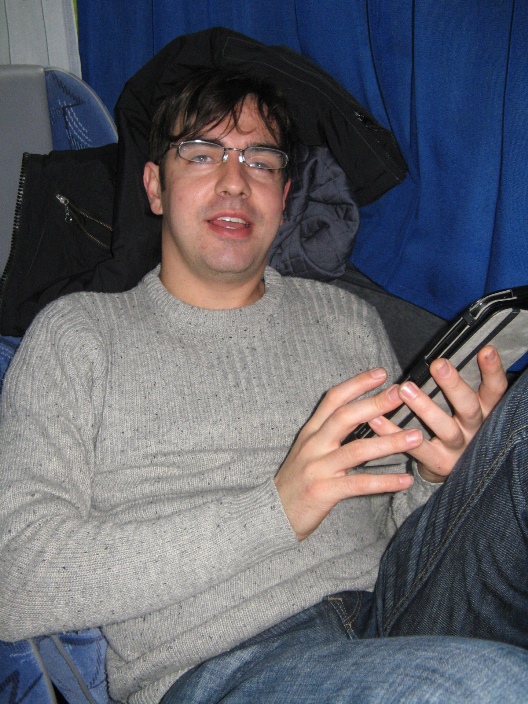 Paddy Joe Seamus Tom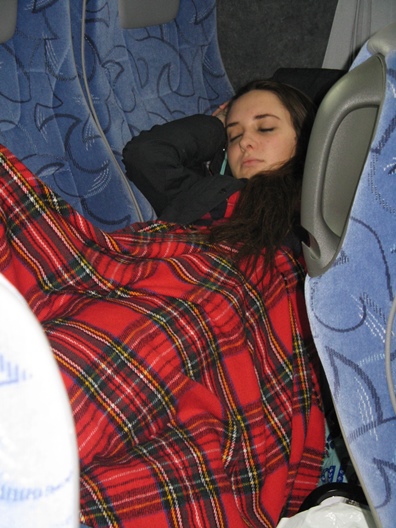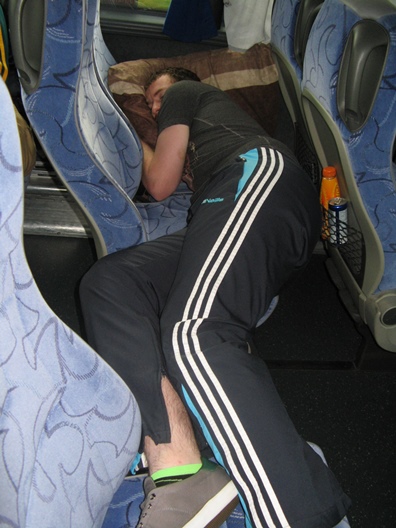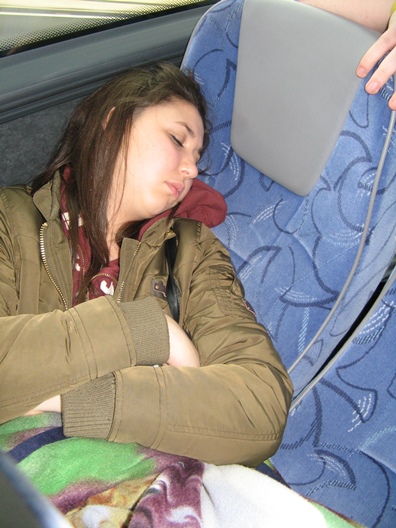 Jenny Seamus Sarah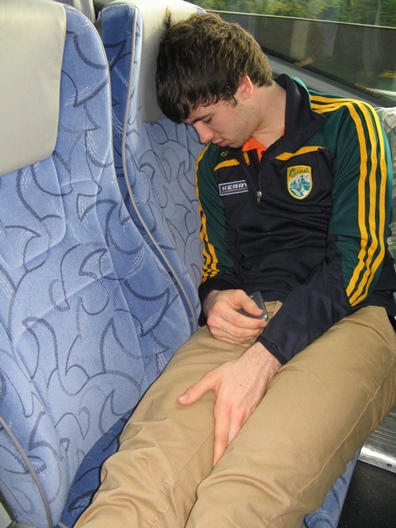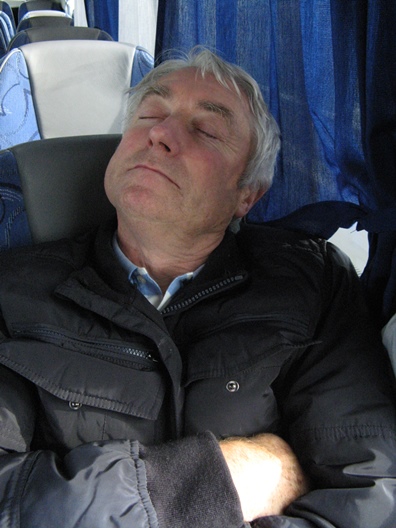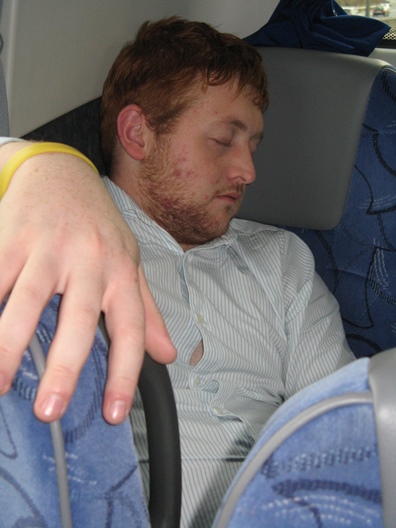 Maurice Paddy Kevin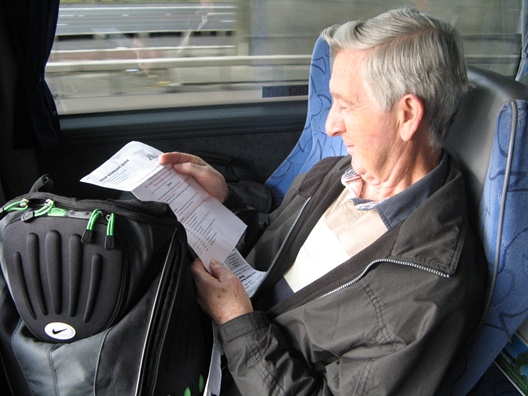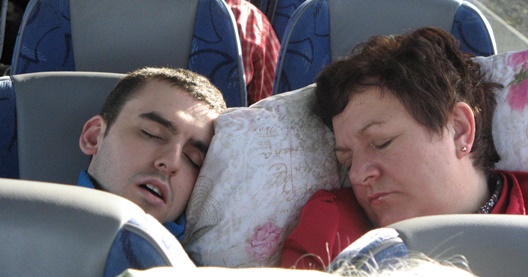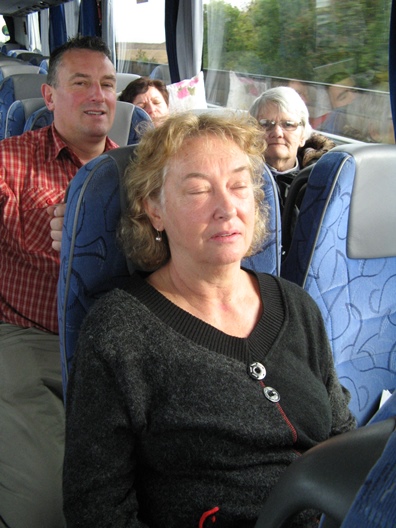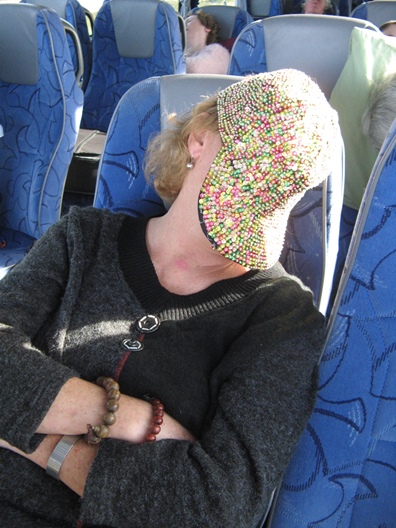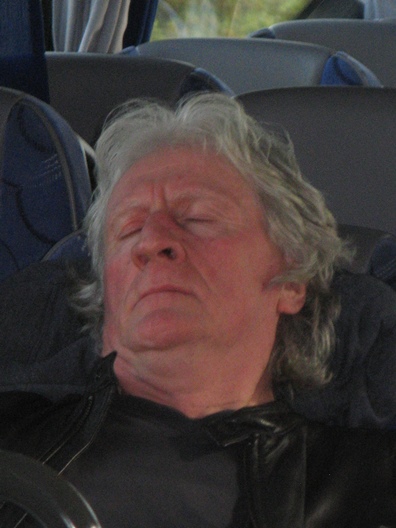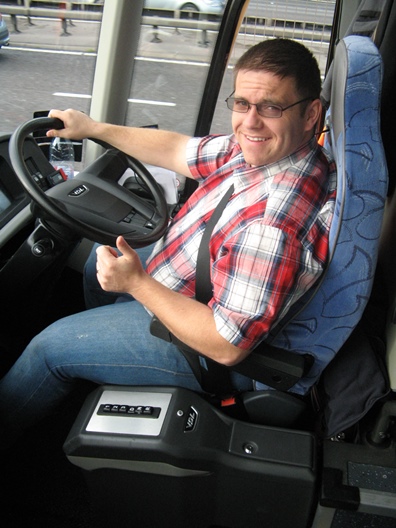 Happily our driver Tom stayed awake!
---
Foilmore Sat 17 October 2015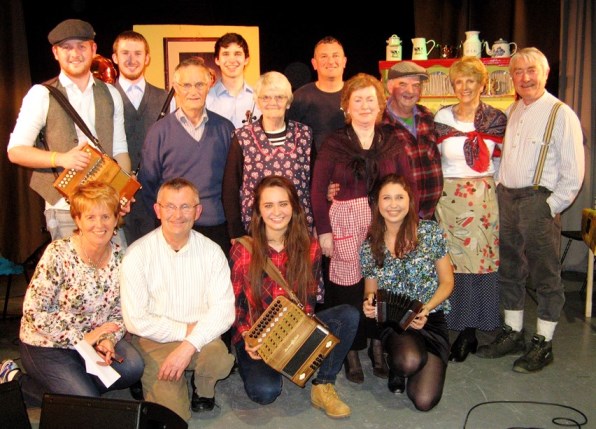 Some members of the 2015 crew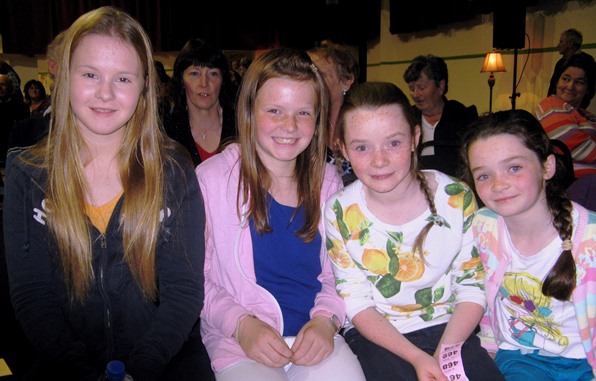 Eileen and Caití O'Sullivan with Áine and Niamh O'Connor




Joe Harrington and Billy Donegan with from left Mary O'Neill McDonell,
John O'Shea, Arena O'Sullivan, Eugene O'Sullivan, Catherine Clifford,
Christy McDonnell, Eileen O'Shea, Mary O'Shea and Ger O'Shea.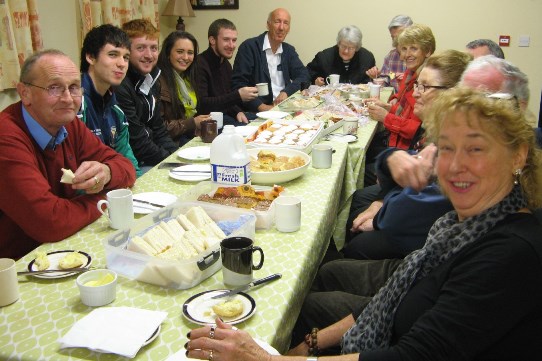 Being Fed and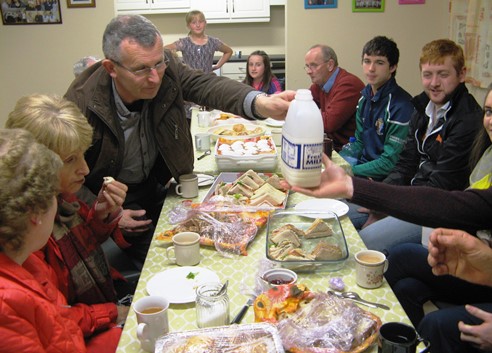 watered!!!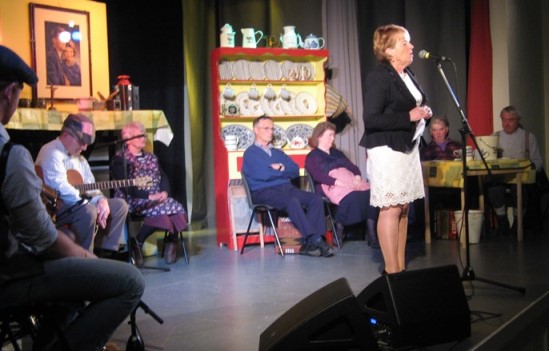 Kay getting the show underway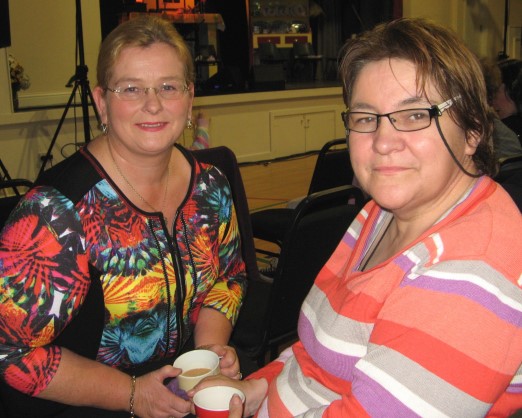 Marie Clifford Foilmore and Kathleen O'Connell Ballinskelligs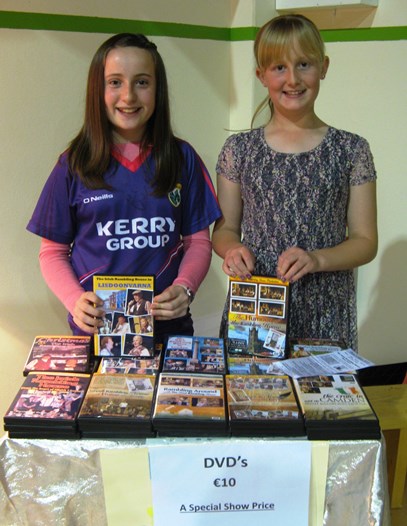 On DVD sales duty
Sinéad Behan and Caoimhe Lyons from Lyreacrompane
---
Irish Rambling House Supporter
gets well deserved award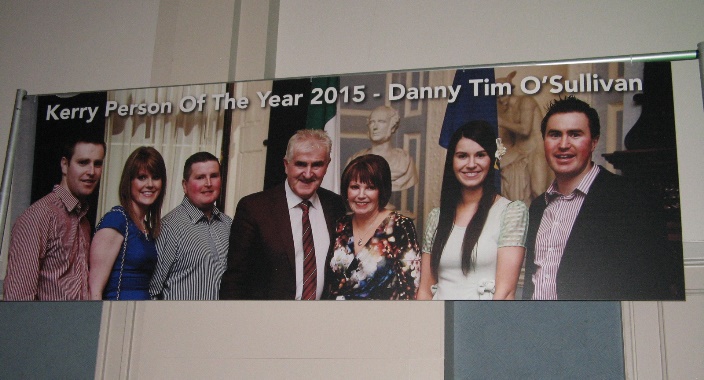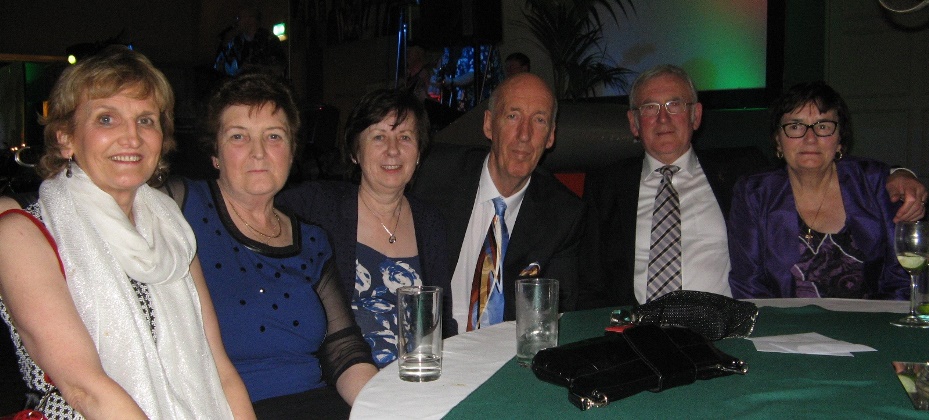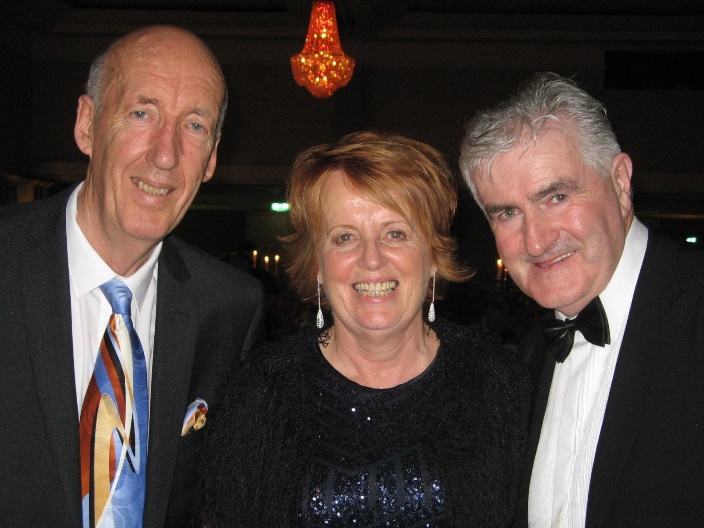 Some photos from the Kerry Association function in Dublin last Saturday at which a great friend of the Irish Rambling House, Danny O'Sullivan, received the honour of Kerryman of the Year.
A mighty event and a well deserved award.
---
The Irish Rambling House
2014 Tour Photos
from Birmingham Irish Centre, London Irish Centre Camden,
Harrow Salvatorian College Hall and the Derby Irish Centre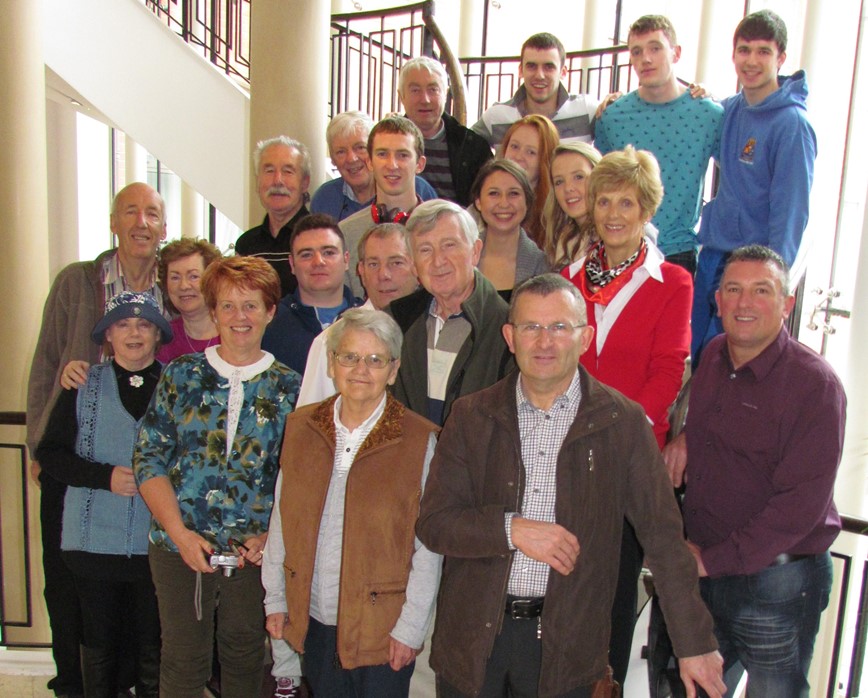 The Irish Rambling House 2014 Tour group pictured at the
Crown Moran Hotel in Cricklewood in London

Click here for more photos from the 2014 Tour
We get a lot of good feedback about our tours but Robin and Rosemary put pen to paper...

Hello Joe and Kay

It was a pleasure to be the Irish Rambling House Show at Harrow on Saturday evening. We are sure everyone there couldn't but have enjoyed the excellent music, songs, dances and of course the stories. A few new faces in the group but still with many of the regular ones we have watched in the four years we have been coming along to these wonderful shows... A sincere thanks to you both and to all involved in organising the annual trip to the UK. Also to the performers who continue to provide the excellent entertainment not only for the 'Irish Exiles' but for all of us who have a love of things Irish.

Regards Robin and Rosemary

Stevenage, England 5/11/2014
Click here for our DVDs
---
Danny O'Sullivan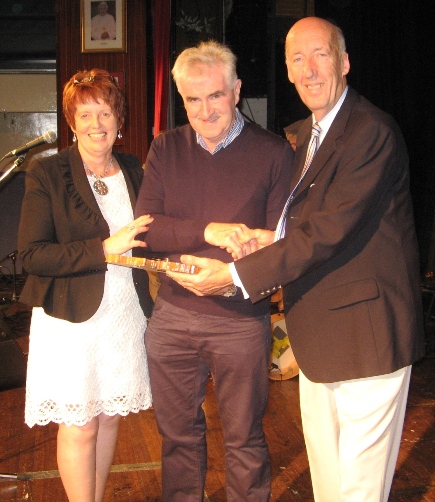 Kay O'Leary and Joe Harrington make a presentation to
Danny O'Sullivan in appreciation of his continued support for
the Irish Rambling House Shows
---
Joe's Country Kingdom
Programmes of Irish Country and Irish music on internet radio on your computer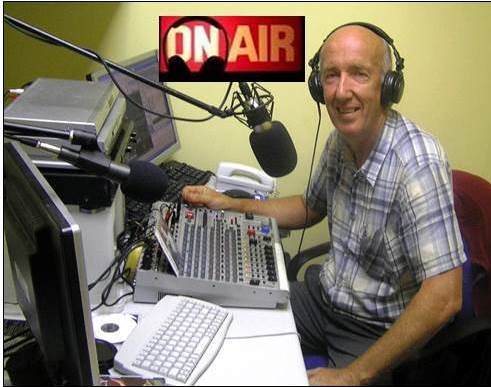 Click on the following link to listen to Joe's Country Kingdom with
Irish Rambling House's Joe Harrington broadcast live from Lyreacrompane on
Tuesdays, 9 to 11pm and Saturdays, to 11pm on internet radio.
www.irishcountrymusicradio.com
---
Photos from Irish Rambling House Shows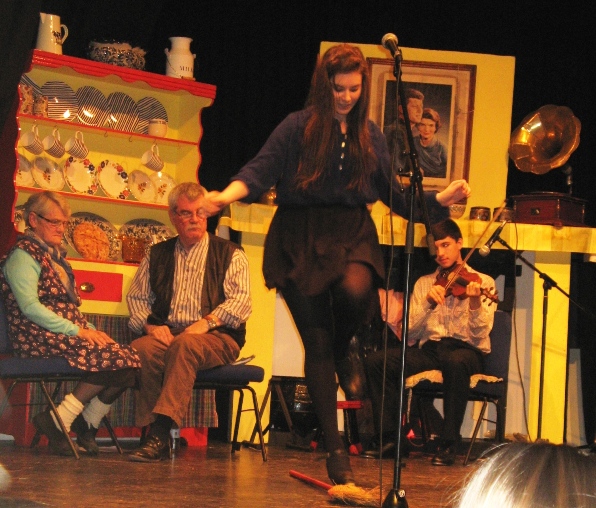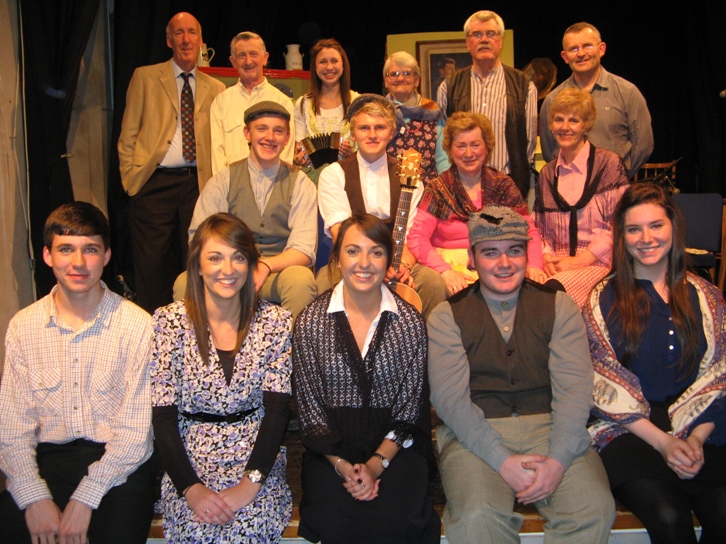 Some of the Irish Rambling House entertainers
from the Listowel Show in 2012
---

Latest Rambling House DVD

The Craic in Camden with the
Irish Rambling House

This DVD was recorded in the London Irish Centre Camden. It features the usual mix of great traditional music, songs and stories. The entertainers get better with age and some of our new talent adds greatly to an already successful mix.


To find out about our other DVDs and to order them please
click here

---
Supporting The Fireside Charity
Birmingham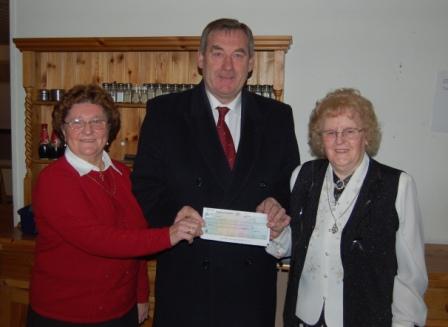 Mr. Eddie Falahee presents a cheque for €500 to Sr. Sabina & Friend on behalf of the Irish Rambling House following their 2008 tour.
Photo by Vince Thompson Irish World
---
Maids of Erin




The Maids of Erin with Donncha O'Duailing outside the Crown in Cricklewood after their sponsored walk and prior to their mighty concert in the Crown Moran Hotel in 2007 to raise funds for the new Cricklewood Homeless Concern project.
Maids of Erin CD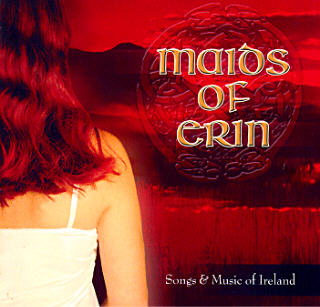 ---
Click Here for DVD's & CD's Order Form

Links

Irish Rambling House, Lyreacrompane, Co. Kerry. Ireland.

Tel: 00353 (0)68 48 353
e-mail
ramblinghouse@eircom.net